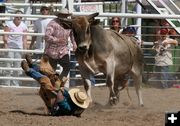 Head Case

"Head Case" looks to take out some revenge on Corey Terry after throwing him off during Chuckwagon Days Rodeo.



Scroll down for more photos


Chuckwagon Days Rodeo
4th of July Co-Approved IMPRA and WRA Rodeo
by Pinedale Online!
July 5, 2009

This year marked the 75th Annual Big Piney Chuckwagon Days Rodeo over the 4th of July.

The rodeo featured Bareback Riding, Calf Roping, Breakaway, Saddle Bronc, Steer Wrestling, Barrel Racing, Junior Barrels, Team Roping and Bull Riding.

Stock contractor for the rodeo was Elkhorn Rodeo Company.
Kenny Eggleson was the Announcer.
Rodeo Clown, Cody Miller, provided comic entertainment.

Corporate Sponsors:
EnCana Oil & Gas
Shell Rocky Mountain Production LLC
Chevron Exploration Production
Cimarex Energy Company
Questar Exploration and Production
BP America Inc.
Cottonwood Captital
Town of Marbleton

Chute Sponsors:
Leftovers, Inc.
Marbleton Inn Hotel & Restaurant
Shell Rocky Mountain Production LLC
EnCana Oil & Gas
Town of Marbleton
Longhorn Trucking

Rodeo Donors:
Phil's Water Service
Leftovers Inc.
King Electric
Rimfire Ranch
Silver Spur Bar
Surveyor Scherbel, Ltd

Committee Members:
President: Saul Bencomo
Vice President: Pam Hamilton
Secretary: Michelle Merrill
Treasurer: Holly Davis
Kristy Sims
Frank & Mary Jones

Special Thanks To:
Sublette Counmty Commissioners and Recreation Board
Sublette County Joint Tourism Promotion Board
Eiden's Construction
Frank and Mary James and the Fairgrounds Staff
Office Outlet
Wind River Web Services
Davis Ranch
Phil Smith
Mary Colton - Concessions

Photos by Clint Gilchrist and Dawn Ballou, Pinedale Online!




Related Links