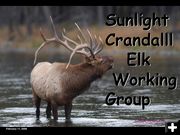 Sunlight Crandall

See the Related Links at the end of the article to download this report. (Note: This is a very large document, 14 MB)


The Cody elk/wolf problem
by Cat Urbigkit, Pinedale Online!
March 30, 2009

The Wyoming Game and Fish Department has organized a nine-member working group to help the agency address problems with the elk population in the Cody region. What's going on there is amazing:
• Calf recruitment has declined in the Upper Clark's Fork Basin due to predation, resulting in decreased hunting opportunity.
• Calf recruitment levels are not sufficient to sustain current hunting pressure in the Upper Clark's Fork Basin.

WG&F is focusing the working group's efforts on the declining numbers of bull elk in the Sunlight-Crandall portion of the Clarks Fork Elk Herd Unit.

Here's a few items of interest:
• During the last 20 years, elk have undergone a major shift to private lands during winter. The elk that moved onto private lands have become non-migratory, apparently sticking to the security of the private property in response to predation.

• When compared to the migratory elk portion of the herd, non-migratory elk on private lands are more far productive and recently have had higher calf:cow ratios.

The entire Clark's Fork elk herd unit had 40 calves/100 cows in 1987. Wolves were reintroduced in 1995 and 1996. By 2007, there were only 25 calves per 100 cows in the herd unit.

The migratory herd, which is subject to continued persecution by wolves, has a much lower calf:cow ratio (between 10-15 calves per 100 cows in the last three years). For comparison, the non-migratory herd has 30-35 calves per 100 cows during the same time period.

• Pregnancy rates of the migratory elk (59-73 percent) are much lower than non-migratory elk (84-94 percent).

• There are only 3 yearling bulls per 100 cows in the migratory herd as a result of poor calf crops, so future bull hunting opportunities may be few and far between. In the non-migratory herd, there are nearly three times as many yearling bulls.

Check out some of the data for yourself by clicking on the link and information below.