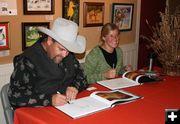 Andy and Nikki

Andy and Nikki sign books after the slide show and reading on Thursday evening in Pinedale.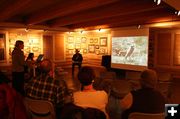 Jonah Slide Show

Andy read selected poems that went with slides in the presentation.


Jonah
New book by Photographer Nikki Mann and Cowboy Poet Andy Nelson
by Dawn Ballou, Pinedale Online!
November 13, 2008

Photographer Nikki Mann and cowboy poet Andy Nelson had a book signing on Thursday evening at the Pinedale Library for their new book, "Jonah".

The inspiration for the book came for Mannís work as a field wildlife biologist working in the Jonah Field for an oil and gas company. She said she realized that Jonah is covered with awesome color. "Itís in little pieces, You have to look really close to see it."

That appreciation for the uniqueness of the place and the people who worked there led to the idea, "It would be really neat if someone did a book on this placeÖ" She was inspired by the topography, the wildlife, the ruggedness of the industry and the men and women who worked the jobs. "You get a sense of how hard these guys work, especially in the winter," she said.

"The goal of this 112-page photography book is to capture the remarkable diversity in a small section of desert in western Wyoming. This region, known as the Jonah Field, is an area where wildlife, ranching, history and the natural gas industry all come together to make Jonah a fascinating and unique landscape," Mann said.

She has lived in Sublette County for the past eight years. She has also worked as a photographer, journalist, horsepacker and farrier.

Andy Nelson is a secondógeneration farrier, who spends his free-time writing and performing cowboy poetry, announcing rodeos and performing publicly. He was named "Male Poet of the Year" by the Western Music Association in 2006. He lives in Pinedale.

He said it was a real honor to be asked to contribute to this book. Once he saw the photos he "jumped in with both feet and was ready to go."

Some of the photos in the book are by Jeff Wohl, who spent considerable time traveling with Mann in the area and also enjoys photographing the outdoors. Mann and Wohl have a website for their photography, www.rafternjphotography.com.

Books can be purchased online by emailing nikkim@rtci.net or calling 307-349-8133 to confirm your purchase and shipping address. The book is $35.00 and shipping is $9.80 for a flat rate box from the Post Service.

Books are available locally in Pinedale, Boulder, and Big Piney, Wyoming at the following locations: The Boulder Store, The Cowboy Shop, Rock Rabbit, Wise Connections and the Midway Mall.




Related Links