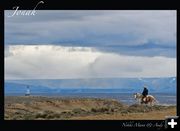 Jonah

Cover of the new Jonah book by Nikki Mann and with poetry by Andy Nelson.

Jonah Field in pictures and cowboy poetry
New book with photography by Nikki Mann and cowboy poetry by Andy Nelson
October 12, 2008
From rigs to rigging, Jonah a 112-page coffee table book ambitiously captures the Jonah Field using pictures and cowboy poetry. This collaboration between photographer Nikki Mann and cowboy poet Andy Nelson has produced a vivid journey through Jonah's wildlife, natural gas industry, ranching and history. As Mann explains, the book started "The summer I worked out in Jonah, I was driving around looking at burrowing owls, cattle and fraccing units when I turned to my coworker and casually said, 'This place is amazing…someone should do a book about it.' That was the beginning of the end. I started looking more carefully and taking extra time to go take pictures."

However, Mann felt that the photographs needed some sort of accompanying text, something that would let the photographs stand on their own but capture the feeling of the landscape encompassing the Jonah Field. "That's where the cowboy poetry came from. Originally I looked at including cowboy poetry from a variety of different authors, but they didn't quite capture the feel of Sublette County." So Mann went to ask Andy Nelson, not only a cowboy poet, but a long-time resident of Sublette County. However, Nelson had his reservations, "When first approached about being part of the Jonah project, I must admit I wasn't certain of the book's relevance or potential. It wasn't long after I began receiving photographs from Nikki that I jumped in with both feet, not wanting to miss this opportunity. I believe Jonah is a stunning photographic chronicle of an ever-changing landscape and a moving insight into an ever-changing heritage."

Nelson will read selected poems from the book sometime early in November at the Pinedale and Big Piney Libraries. Afterwards he and Mann will be signing books.

Books are available for $35 dollars at The Boulder Store, Wise Connections, The Cowboy Shop, Rock Rabbit and Midway Mall in Big Piney, or by contacting Mann at nikkim@rtci.net or Nelson at cowpokepoet.com.

Related Links
Jonah - Rafter NJ Photography