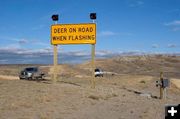 Wildlife Warning Signs

Wildlife warning flashing lights and signs near Trappers Point, between Pinedale and Daniel on US 191. WYDOT photo.


Effectiveness of Wildlife Detection System to be determined
by Wyoming Department of Transportation
October 31, 2008

(Pinedale) - The Wyoming Department of Transportation officials say data is still being collected for the study to determine the effectiveness of the Trapper's Point Wildlife Detection System on US 191 north of Pinedale.

Animal detection/traveler warning systems are relatively new technology being used by transportation agencies to address safety concerns related to vehicle-wildlife crashes. The system installed by WYDOT is a well tested system used in military and security applications, including detecting animals, but the Trapper's Point and Nugget Canyon installations are the first deployments for a wildlife crossing application. The system warns motorists traveling on the highway of wildlife on the roadway. The Trapper's Point system, installed in 2005, is a carryover from the research project at Nugget Canyon, where it eventually proved to be 90 percent accurate.

Since it is an experimental project, adjustments to the system are continually being made to solve some of the problems that result in "false positive" readings. False positives occur when the system activates although there is no big game present. Conversely, a false negative occurs when the system fails to activate when game is present. "If we can get it adjusted and aligned properly, Trapper's Point can be as reliable there too," said John Eddins, District Engineer in District Three.

Under the study, there are three areas being investigated to determine the effectiveness: the ability to detect big game on the roadway, the effect of the system on driver behavior, and the impact on reducing vehicle-wildlife collisions. The final phase of the study will determine the overall effectiveness on vehicle-wildlife collisions, and requires three years of crash data with the system in place. Under the terms of the contract, data collection will be completed and a report made on the effectiveness of the study before Spring 2009.

Eddins said sometimes it's just as important to know something doesn't work, as it is to know that it does work, before spending millions of dollars on countermeasures that won't have any positive effect. Speed limit reductions, warning signs, and public education are measures that will change driver behavior but will have no affect on deer crossing behavior. Likewise, the installation of deer underpasses, fences, roadside reflectors are examples of countermeasures that will affect deer crossing behavior, but not that of drivers and a system that funnels animals to a confined crossing over the road and also detects the animals in order to alert drivers is an example of a system that affects both the driver and the animal.