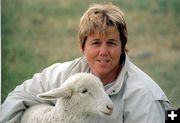 Cat Urbigkit

Cat Urbigkit lives on a ranch south of Pinedale raising sheep and Hereford cattle. She writes the "Wolf Watch" feature section on Pinedale Online!


Cat Urbigkit to give presentation on Wyoming wolves
Author of new book on wolves to speak at Wyoming State Museum in Cheyenne Oct. 29
by Wyoming State Parks and Cultural Resources
October 23, 2008

Author Cat Urbigkit will be at the Wyoming State Museum Wednesday, October 29 to discuss the highly complicated and controversial issue of wolves in Wyoming during the book launch event for her new book, "Yellowstone Wolves – A chronicle of the Animal, the People, and the Politics."

Urbigkit's presentation will be held in the State Museum's Multi-Purpose Room at 7 pm. Urbigkit will give a short reading and lecture, which will be followed by a book signing and reception.

"Yellowstone Wolves" chronicles the history of Wyoming's native wolf beginning with archaeological evidence of its existence in the state. The book provides four frames of context: historic, scientific, legal and personal.

The book details what was known about the native wolf and how it differed from other wolf populations. It explains the political and legal battles over the proposal to reintroduce non-native wolves to the region. While the debate raged, some of its participants largely ignored the fact wolves still existed in the region and that introducing Canadian wolves would be a violation of the Endangered Species Act.

Rather than a triumph for conservation, Urbigkit viewed the wolf reintroduction program as a tragedy. Rather than a victory for wildlife, it was an action causing the extinction of a truly distinct animal, Wyoming's native wolf.

"Yellowstone Wolves" contains information that has never been published before ranging from correspondence to first-hand accounts. Urbigkit relied on thousands of documents gained through the Freedom of Information Act, state open records laws, the discovery process of three federal lawsuits and documents obtained through nearly 20 years of personal involvement in the issue.

Urbigkit was born in southern Indiana and moved to Pinedale as a young girl. She is a former newspaper reporter and co-owner and founder of the Sublette Examiner. She and husband Jim Urbigkit were both litigants in a lawsuit against the U.S. Fish and Wildlife Service in an attempt to save the native wolf.

The Wyoming State Museum is located in the Barrett Building, 2301 Central Avenue in Cheyenne. For information, please call 307-777-7022.