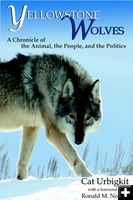 Yellowstone Wolf cover

Cover to Yellowstone Wolves, the new book about wolves by Cat Urbigkit, due for release next month.


Controversial wolf program debated
Urbigkit's new wolf book due for release
by McDonald & Woodward Publishing Company
August 11, 2008

For the first time, the history of Wyoming's native wolf is told in an intensively researched, fully footnoted chronicle by Wyoming's award-winning author Cat Urbigkit. Beginning with the archeological evidence of wolves in western Wyoming, through the wolf control era when most, but not all, wolves were eradicated, the book continues through the release of Canadian wolves into Yellowstone National Park and the lasting effects of this controversial action. Urbigkit is uniquely qualified to compile this intensely personal perspective, as she was one of the litigants who sued the US Fish and Wildlife Service to prevent the reintroduction of Canadian wolves into the northern Rockies.

Urbigkit's book provides four frames of context: historic, scientific, legal, and immensely personal. The book details what was known about the native wolf and how it differed from other wolf populations. It explains the political and legal battles over the proposal to reintroduce non-native wolves to the region. While the debate raged, some of its participants largely ignored the fact the wolves still existed in the region and introducing Canadian wolves would be a violation of the Endangered Species Act.

Rather than a triumph for conservation, the author viewed the wolf reintroduction program as a tragedy. Rather than a victory for wildlife, it was an action causing the extinction of a truly distinct animal, Wyoming's native wolf. She fought the original wolf reintroduction proposal not out of hatred for wolves, but out of concern for the possible extinction of Wyoming's native wolf.

Yellowstone Wolves contains information that has never been published before—from correspondence to first-hand accounts. It is the first comprehensive compilation specifically on the Yellowstone area's native wolf, and is the first time the subspecies issue has been examined in detail in a discussion of the controversial Yellowstone wolf reintroduction program by the US Fish and Wildlife Service.

Urbigkit relied on thousands of documents gained through the Freedom of Information Act, state open records laws, the discovery process of three federal lawsuits, as well as documents obtained through nearly two decades of personal involvement in the issue. The book also contains a unique collection of photographs and illustrations that historically document years of debate.

In the Foreword by Ronald M. Nowak, an internationally recognized mammalogist and wolf expert, he provides authoritative context for understanding the broader (global) significance of endangered species management, and the record and trends of the United States in managing the biological diversity and heritage of the country and adhering to the mandates of the Endangered Species Act. Nowak also appreciates the unique perspective that author Cat Urbigkit provides in Yellowstone Wolves.