RIDES TO WYOMING
Click here to go to a site listing people needing rides to Big Sandy and others offering rides. People from all over the country are posting on this board. If you need a ride, check here to find someone near you who is coming to Wyoming. Most ask you at least be able to help with gas money. Note: regular unleaded gas has topped $4/gallon at many stations in Wyoming.
Also check out the Craiglist Ride Board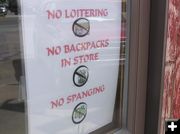 No Spanging

No Loitering-No Backpacks-No Spanging Signs are beginning to appear in Pinedale businesses that reflect a response to behavior of the newcomers arriving for the Rainbow Family of Living Light Gathering over the 4th of July weekend in the Big Sandy area. Shopkeepers are having increasing incidents of panhandling, shoplifting and loitering. In our area of a booming economy where there are more jobs available than employees, and where everyone seems to be always hustling to and from work, seeing people loiter and beg for money is very out of place here. "Spanging" for those who are unfamiliar with the term, is slang for asking for spare change. (pronounced "spain-jing", as in "spare-changing")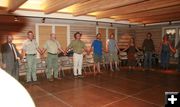 Pinedale Rainbow Town Meeting

After a 3-hour town meeting at the Pinedale Library on June 19th, Rainbow Family members asked everyone to form a circle and join hands in a gesture of peace and friendship (and they all did).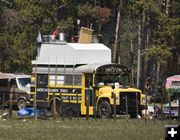 Rainbow Disaster Relief

After the Rainbow gathering, this Rainbow Kitchen bus will be headed out to do disaster relief, most likely in Iowa to help with the flood victim efforts. Click here for more of Dave Bell's scenic photos of the area, and more photos of the Rainbow Gathering from his Father's Day trip to Big Sandy (June 15, 2008).



Scroll down to the end of this page for related links to more useful blogs and websites with frequently updated info on the 2008 Wyoming Rainbow Gathering in the Big Sandy Opening. This page is a work in progress. Please check back for more updates. This page represents information and perspectives solely of Pinedale Online! We are long-time local residents and know the area well, but do not claim to speak for all the "locals". Please see the links at the end of this article for contacts for other local visitor information service providers who can also answer questions about the area.


Rainbow Family Gathering in Wyoming for 2008
Rainbows gathering at Dutch Joe-Big Sandy in the southern Wind River Range
by Dawn Ballou, Pinedale Online!
Original post June 12, 2008 | Updated Sunday, July 13, 2008

Editor's Note: We are no longer taking messages for people in the Rainbow camp. It is pretty much over for their Wyoming gathering and people have dispersed. If we can make a suggestion: Kids, please contact your family and let them know you're ok. It would mean a lot to them. For emergencies, we suggest contacting the Sublette County Sheriff's Office: 307-367-4378.
__________________________________________________

Messages to people in the Rainbow Gathering camp:

7/13/08 To: Thomas de Graff
From: Mom
Subject: Please contact us
Thomas, please contact us and let us know you are ok.
- Mom

7/9/08 To: Kayte Albers - UPDATED! Home Safe
From: Tom Albers
Subject: Are you OK?
Please confirm your status via Information contact at site. Email us at... Update Friday, July 11: Kayte has returned safely. Thanks again for your help!

7/7/08 To: Hope (age 15)
From: Mom
Subject: Please call home
Are you ok? Please call home and let us know you are safe.
Love Mom

7/7/08 To: Ross Hobbs
From: Mom (and Grandpa)
Subject: Please call home
Please call home. We haven't heard from you and we are worried. Love Mom

7/7/08 To: Jeremy Burg from Danville, California
From: Dad
Subject: Want to hear from you
We need to hear from you. Need to know that you're okay AND we need to figure out how we're going to deal with the car problems. I was told that there is possibly some cell signal if you head for high ground and that there is a lodge nearby with a satellite phone. If anyone who knows Jeremy Burg wants to get a hold of me, please call Jerome Burg at 925-918-1867, jburg@mac.com.

7/7/08 To: Rainbow Info, or anyone who knows the answers
From: Jeffrey "Rambling Man" and Mary
Subject: Too late to come late??
We are long-time Rainbows - couldn't make the main gathering, but would still like to come if anyone is still staying around. How many people are staying? How many Kitchens will be staying for clean-up? In particular, will Lovin Ovens and/or Kiddie Village kitchen be staying much longer? Also, what will be the next stop for the caravan? Please call 917-628-7899 and leave a message if anyone has news or answers to help us decide if we should buy plane tickets and come this late. Hi to Markin in Info!
Editor's Note/answer received 7/7/08:
- Don't know how long Ovens and Kiddie Village will be up and running. Most start breaking down soon after July 8th to utilize helpers on hand to disappear kitchens.
- No "main caravan" of people moving to a next place. Some go to Oregon Country Faire, some go to next regional. Suggest check wecomehome.org and see if there are any postings. Usually it is just a mass exodus in all directions.
- Info tries to stay as long as possible. Usually structure stay up until July 10th or so. After that, whoever is around does their best to answer questions.
- Clean-Up Camp would love fresh energy to help. After July 9th, they prefer to have people who are willing to work to help clean up and not just camp and eat food. No workshops, shows or events planned after July 7th. Kitchens that stay after the 9th are there to feed workers. You're welcome to come – still a great environment and lots of good times – just please help clean up.

7/6/08 To: Tina Marie Shade
From: Mom & Dad
Subject: Please call Mom
Please call Mom immediately. We are concerned about your whereabouts and safety. We love you!

7/6/08 To: Jack Whitehouse and Inbal
From: Eagle
Subject: Please call home
Jack, please call home now. Have Plunker call Eagle. 206-708-7526.

7/6/08 To: Dan from Albuquerque, New Mexico
From: Reuben
Subject: Your wallet
Do you want me to overnight mail your wallet to the Sublette County Sheriff's Office in Pinedale so you can pick it up from them? We will wait until we hear from you before doing anything. It can be there by Tuesday if you want us to do that. Rainbow family, please spread the word to reach Dan in the Rainbow gathering that we are trying to reach him and ask him how he wants us to get his wallet back to him. Thank you!

7/6/08 To: Melody Castro from Georgia
From: Aunt Gaile Johnson in Georgia
Subject: Just checking to make sure you and the kids are ok
Haven't heard from you since late June and we are concerned about you and the children. Please call, e-mail, send smoke signals, balloons, whatever, to get a message to us and let us know that you and the kids are ok. Phone: 404-597-5378 or 678-910-0597. OK to call anytime, days, evenings, middle of the night, weekends - just so we hear from you and can get word you are all ok. Thank you!
__________________________________________________

Update Saturday, July 5, 2008, 9:10AM: Click here for an article about the July 3 clash between law enforcement and Rainbows near Kiddie Village in the Rainbow camp at Dutch Joe/Big Sandy. The Casper Star-Tribune is the state newspaper in Wyoming. Arrest leads to Rainbow riot (By Tom Morton, Casper Star-Tribune, Saturday, July 5, 2008)
__________________________________________________

Update Friday, July 4, 10:51 AM: Forest Service media release of July 3, 2008 incident at Rainbow Gathering at Dutch Joe/Big Sandy in Wyoming.

Media Release from the Rita Vollmer, Intermountain Region Regional Office Public Affairs Specialist for the Forest Service, Office: (801) 625-5153, Cell: (801) 791-2390.

Rock Springs, Wyoming (July 4, 2008) — Forest Service officers were patrolling the main meadow area of the National Rainbow Family Gathering yesterday evening. The officers made contact with a subject that would not cooperate and fled. The subject was apprehended; once detained other Rainbow participants began to interfere with the situation.

Officers began to leave the Gathering site with the subject and were circled by more Rainbow participants that began to physically interfere. Another participant was detained for physical interference.

Ten officers were escorting the detained subjects when about 400 Rainbows surrounded the squad trying to leave. More officers were requested to assist in the main meadow area. The mob began to advance, throwing sticks and rocks at the officers. Crowd control tactics were used to keep moving through the group of Rainbows.

"This lawless behavior is unacceptable and we will not tolerate it," Forest Service Director of Law Enforcement, John Twiss, said. "The safety of our employees, public and Rainbow participants is our number one priority and we will continue to protect everyone on the National Forest."

A total of five arrests were made in relation to this incident. One officer suffered minor injuries and was cleared by the local hospital. A government vehicle also incurred damage during the incident.

Bureau of Land Management, Wyoming Highway Patrol and Sublette County, Fremont County, and Sweetwater County Sheriff Offices all responded to the Forest Service officers during the incident.

"The Forest Service Incident Management Team appreciates all of the help and assistance from the agencies coordinating with us during this incident," Incident Commander, Gene Smithson said. "It is important that we continue to work together."

Approximately 7,000 Rainbow participants have congregated in the Big Sandy area.

Related Links about this incident - Rainbow side:
"We The People Radio Network" – radio program audio broadcast file 1 (One hour audio file with first-hand interviews with Rainbows at the scene at the time of the July 3, 2008 incident)
"We The People Radio Network" – radio program audio broadcast file 2 (One hour audio file with first-hand interviews with Rainbows at the scene at the time of the July 3, 2008 incident)
_____________________________________________

Sunday, June 29 Update: We spent all day yesterday wandering through the Rainbow camp and talking with people there. There are currently estimated to be 5,000 to 6,000 people there now, with more pouring in every day. Click here for photos from the 2008 Rainbow camp near Dutch Joe/Big Sandy in the Wind River Mountains in Wyoming. (47 photos)

CLOSURE in effect for upper Big Sandy meadows/Lamreaux Meadows and part of Big Sandy Opening There is a new closure in effect for the Big Sandy Opening at the upper end of the road. Big Sandy Lodge, Big Sandy trailhead and campground are OPEN. The Closure was implemented by the Forest Service effective Friday, June 27 and is in effect "until rescinded." This is an Occupancy and Use Order imposed for public safety and resource protection due to the Rainbow gathering. Basically they don't want a lot of vehicles driving or people camping or trompling the wet meadows up there. Lamreaux Meadows is closed to camping except to persons with a permit specifically exempting them from this order (the Boy Scouts fit into this category for their project planned for the end of July). Camping prohibited includes overnight occupancy and temporary presence of camping equipment. There is a $5,000 fine for individuals, $10,000 fine for organizations, and/or imprisonment for not more than 6 months penalty associated with this closure order. More information available from the USFS Supervisor's Office at 307-733-2752 or Pinedale Ranger District of the Bridger-Teton National Forest at 307-367-4326. Barely noticeable flyers and maps describing this closure are posted wrapped around the posts on the cattle guard at the forest boundary entrance (You have to get out of your car and walk right up to them to see the notices. They are posted on the back side of the posts as you drive in. The closure area was not signed on the road as of Saturday to let people know it is in effect. There are many Forest Service people around who will probably immediately tell you to move if you're in the wrong spot.)

There are three entrances and parking areas into the Rainbow gathering area. The first entrance, on National Forest land just past the BLM boundary cattle guard, is intended for handicap parking. This is a longer walk in, but a less steep grade (you'll still be going uphill to get to the main gathering area). The second entrance is called Bus Village. This is a beautiful appx. 2-mile walk in through the forest, past numerous small lilly-pad filled ponds. There is one short section of very steep uphill on this trail. Take it slow if you aren't in the best of shape. Then the rest of the way is downhill. The third entrace, the "back door", is further down the main road. Parking isn't very plentiful and you'll end up being on a hill to park your car. We were told the hike in on this trail is less steep, but a bit longer and muddy.

Note: The Big Sandy road is very narrow in places. Please drive slowly and stay to the right, especially on blind corners. Also, watch for pedestrians, animals, people on bicycles, 4-wheelers and emergency vehicles. If you need to pull over, find a side road or a turn-out. There is a Rainbow information booth at the top of the big hill as you come into the area. They will answer questions and give directions. There is no parking within 20 feet of the road on the BLM portion of the road (it is signed where you can't park). Some people are parking and camping along the side roads and in the forest in this stretch. This is ok. It's further from the main Rainbow camp, but less congested. The BLM is strictly enforcing the 14-day camping limit. There is no camping or parking in the big open meadows south of the Forest Service boundary. BLM and Forest Service law enforcement officers are out in force on the roads patroling the area and enforcing regulations. We did not see any uniformed law enforcement officers at all in the Rainbow Camp all day during out visit on Saturday.
__________________________________

Tuesday, June 24 Update: The Forest Service is now looking for alternate locations for the 150 Boy Scouts who will be impacted by the presence of the Rainbow Gathering in the same location where the scouts had planned to do forest restoration projects. Read more about this story here: Bridger-Teton seeking alternate site for Boy Scout project due to Rainbow gathering. On Monday, one of the Sublette County Commissioners made a request for Wyoming Senator Enzi to look into the Forest Service management of the Rainbow Gathering at Big Sandy. Read more about this story here:
Sublette County Commissioner asks Senator Enzi to look into Forest Service management of Rainbow Gathering in Wyoming
__________________________________

Monday, June 23 Update: We've updated our info on mosquitoes, ticks and rattlesnakes. We also received an e-mail from one of the Rainbows on Sunday with more updates on the issue of moving the Rainbow Gathering which is assembling at Dutch Joe in the Big Sandy area of the southern Wind River Mountain Range. Because there is no central authority or person responsible for information distribution, we have no way to verify this information.

According to the e-mail from Rainbow "Ivy", a concensus was reached on Friday and reaffirmed on Saturday that no one is leaving the Dutch Joe area to move over to Snyder Basin in the Wyoming Range.

Below is more from her e-mail:

"They have spent the last 3 weeks setting up kitchens (about 10 already!) and building
gathering areas. The trail up the mouintain from Handi-camp (the nearest point you can park) is a strenuous 3-5 mile hike up the mountain. The main Bliss pit (Fire circle) near main meadow has been built that is large enough for 3 tiers of drummers, spectators, and dancers. Calm is setting up on a healing vortex, and trails have been blazed. Everyone has worked so hard and THERE IS NO WAY THEY ARE MOVING! Those present at main circle reached a concensous that because the Scouts won't be there till the end of July, the only Rainbows that will still be there are clean-up crew. IF the scouts encounter the rainbows at work, (Boy Scouts will be on the other side of the ridge) they may learn a thing or two about environmental restoration so no one believes it will be a problem.

They were VERY concerned about the internet postings new arrivals have reported stating that the Gathering is or will be moved. They were adamant about news getting to the outside stating that the posted Gathering Site near Big Sandy is the ONLY place the Gathering will be. A split Gathering is detrimental to the spirit of the Gathering and is NEVER an option! Split Gatherings happen when people on the outside become misinformed and begin setting up in a different place. Then TWO sites need to be cleaned and restored...not good!

Also, please let people know that the road in is very rough and you must be prepared to go about 20 MPH for about 40 miles! A car on a trip to town for supplies rolled yesterday, injuring the 3 young Rainbows in it. Everyone is OK but it was a reminder to not be in a hurry out there. Also, make sure your tires are in good shape and DO NOT ATTEMPT without a spare!!!!

Also, the trail in goes up dramatically for about 3 miles before dropping down to the first meadow, then there is a strenouse up-hill hike (about a mile) to main meadow. Others are camped even higher up in a third meadow. Be prepared for it to take up to 3 hours to hike in and in the dark, it is very dangerous. This is one of the longest trails into a Gathering people have seen so be prepared with time, water, and appropriate ways to pack your belongings in. Those heading in should plan to arrive at the trail head (about 2 hours from the highway) at least 3 hours before sunset.

The weather is warming up but do not forget that the nights are cold...layer, layer, layer! and yes extra blankets are needed."
__________________________________

Saturday, June 21, 2008 Update: We've added another link to another Ride Board. As for the question about possibly moving the location for the gathering, according to a June 21st entry on a blog for the Wyoming Rainbow gathering, the Rainbow family discussed the issue of their location in the Dutch Joe area of Big Sandy in the Wind River Range conflicting with a large Boy Scout gathering and project set to take place in the same area at the end of July. The main Rainbow event will take place July 1-7th. The concern is over people who decide to stay in the area for several more weeks who may be camped in the same area that was planned to be used by the Boys Scouts, who have had their project in the works with the Forest Service for several years. The Forest Service has asked the Rainbows to move their gathering to one of four other possible locations they feel are better suited.

Apparently there was no consensus on a decision on Friday at their Council. Some people wanted to move to Snyder Basin and plan to relocate there. Others said they definitely plan on staying where they are near Dutch Joe. According to the website, "…it will most likely not be moving completely."

Anyone still on the way can decide for themselves which area they wish to camp and go accordingly.

It is estimated there are over 1,000 people currently on the site, which is located near Dutch Joe Guard Station. The camp is approximately five miles away from Big Sandy Lodge and the wilderness campground and wilderness trailhead access. Gatherers park near the main entry road, then hike in a couple of miles into the forest to reach the meadows of the Rainbow site. Those going into the Rainbow Camp pass through a check station manned by the Rainbows where they can get directions and have questions answered. The Rainbows are not in the upper meadows of the Big Sandy Opening or in the trailhead campground area.

Another comment on the blog entry said that people on site are asking for extra blankets, sleeping bags and tents. Apparently many folks came unprepared for the cold night weather and some kids don't have enough bedding. They ask for help from anyone who can assist with those needs.
__________________________________
Additional Notes: We spoke with Tim Lightner with Big Sandy Lodge on Saturday, June 21. He asked us to pass on that the Rainbow camp is several miles away from the lodge and not near the campground or wilderness trailhead. The lodge opens for the summer season tomorrow, Sunday, June 21, for cabin rentals, horseback riding, fishing and backcountry excursions. The road going in is dry to the top. Big Sandy Creek is running high with the start of spring snow melt. He said the snow is hanging on later than usual this year. Snow is still lingering in shaded areas and in the high country.The trail into the wilderness is not passable between Meeks and V Lake. The river trail is more open, but still has snow in shaded areas. It will be several more weeks before snow melts from these areas and the trails open up. Jackass Pass over into Cirque of the Towers is still covered with a lot of snow. The lodge still has some openings for cabin rentals between June 25 and July 15th. They have sporadic openings after that, so call to check and see if the dates you are interested in are available. Tim commented that the Rainbows he has met have been "polite, kind and friendly."
__________________________________
Trivia: The peace symbol turns 50 in 2008! The familiar "peace symbol" was designed in 1958 by Gerald Holtom in Britain as the badge used by the Campaign for Nuclear Disarmament in Britain. In the 1960s it was adopted by the anti-war movement and the counterculture of the time. The symbol is a combination of the letters "N" and "D" for Nuclear Disarmament.
_________________________________________
Thursday, June 19, 2008: Rainbows held a Town Meeting in Pinedale on Wednesday, June 19th in the Pinedale Library The purpose was to allow members of the community to have an opportunity to ask questions of the Rainbows about the gathering. Besides a number of Rainbows, also present were representatives from the Forest Service, Sublette County Sheriff Bardy Bardin, Sublette EMS medical personnel, Sublette County Commissioner Joel Bousman, Sublette County Sanitarian Keith Raney, Sublette Emergency Services, Sublette County Public Health, local citizens and media attended. Mark Rey-Under Secretary for Natural Resources (US Dept. of Agriculture) flew in to attend. Concerns expressed included impacts on the town and possible increase in crime, possible confrontations between Rainbows and locals, impacts to the environment, concerns over drug use and nudity, and conflicts with other people recreating in the area-including a group of Boy Scouts that will be coming at the end of July. One of the issues discussed was the possibility of moving the gathering location to Snider Basin in the Wyoming Range to avoid possible conflicts with the Boy Scout group event. The question will be raised at Council on Friday, June 20, to see what the other Rainbows think of the idea. The meeting lasted over three hours responding to questions. _____________________________________________

Frequently Asked Questions:

How do we find this place?
Hopefully someone with the Rainbow organization will post a good map to the gathering site. This place is remote and you'll be driving down miles of back roads to get to it. Signs are located at the intersections, kind of out in the middle of nowhere. If you take a wrong turn you'll travel a lot of miles before you figure it out. The best map we have at the moment is the one Big Sandy Lodge has posted for their guests to find them. (http://www.big-sandy-lodge.com/howtogethere.htm)

From the south, you'll go through Rock Springs to Farson, then hit back roads and follow the directions to Big Sandy Lodge. From the north, head through Pinedale on US 191 and turn east at Boulder and follow the signs to Big Sandy Lodge. Note that the last stretch of road is single lane in many places. There are turn-outs, but it is hard for two cars (or two RVs) to pass in certain places, so it's wise to pay attention to where those wider stretches are in case you meet a wide vehicle coming towards you from the opposite direction. You can make a little better time on the gravel roads coming in, but be on the alert for critters and be aware it is easy to spin out on gravel if you go too fast.

Your last chance for fuel is Farson and Boulder. We strongly recommend you fill your tank up before proceeding past those two towns. Be sure to have a good spare tire with you. (Updated Sunday, June 15, 2008)

Transportation - (Updated Monday, June 16, 2008)
We are rural and do not have much in the way of mass transportation. Drivers will encounter significant road construction in Rock Springs and along US 191 between Rock Springs/Farson/Pinedale. US 191 has extremely heavy truck traffic due to the gas field development in the area.

There are commercial airports in Salt Lake City, Utah, Jackson, Wyoming, and Rock Springs, Wyoming. Pinedale has a general aviation airport for small planes. Amtrak will get you as far as Salt Lake City, Utah. Rental car services are available in SLC, Rock Springs, Jackson and Pinedale.

Greyhound bus service stops in Rock Springs, Wyoming. There is no public bus service or shuttle north from Rock Springs, so you will need to either rent a car or make other arrangements from there. For more on Greyhound bus schedules, go to http://www.greyhound.com. (Updated Monday, June 16, 2008 – Thank you to Karen Zirk for the update on bus info.)

In answer to Karin's question about a local legal way to get from Rock Springs to Farson without a private vehicle: We STRONGLY DISCOURAGE anyone from hitchhiking from Rock Springs to get north to the Rainbow gathering site. Because of the natural gas activity boom in western Wyoming, there is incredible heavy truck traffic on the highway between Rock Springs and Pinedale. We're talking big semi-truck traffic and lots of it. There is also road construction for 11 passing lanes being built in that stretch, so congestion and heavy equipment on the sides of the road related to that. We encourage travelers to make all efforts possible to find a ride or carpool to get up to the gathering site and do not try to bike or walk that stretch hoping someone will stop and pick you up on the way. It is an accident waiting to happen for any interruptions of traffic flow on that busy highway by adding in distractions due to people walking on the sides of the road. Please, please, please do try to find a ride. With all the traffic on that road right now it just isn't safe for you as a pedestrian, or for the people driving on that road, to add pedestrian distraction traffic into the mix. We don't have a better local solution to help you with transportation. There are lots of people talking on the blogs about carpooling, so hopefully some of you can connect that way to meet and ride together. Please try to arrange to find a ride that will get you all the way up to the gathering site.

More info on transportation (and lots of other local area info) is available from the Sublette Tourism Board's website: http://www.mountainmancountry.com/trip-planner/transportation.html (updated Friday, June 13, 2008)

Medical facilities:
The nearest hospitals are in Rock Springs and Jackson. Pinedale and Big Piney have medical clinics. They have regular hours weekdays. At other times, call 9-1-1 to get the Sublette County Sheriff's office dispatch to report any kind of medical emergency. They will dispatch out an ambulance or whatever emergency service is necessary (ambulance, fire, search & rescue, deputy). Note that if you call 9-1-1 using a cell phone, you may not get the Sublette County dispatch office. From Big Sandy you might get a dispatch answer from another county, so be sure to be clear on your location before you call so they can figure out what service is closer and where to send emergency personnel out to help you.

Local services:
Depending on whether you're coming from the north or the south, the biggest towns (last chance for supplies) will be Rock Springs or Pinedale. This is where to get groceries, topo maps, camping supplies, sunscreen, last-minute clothes, ATM/bank services. Pinedale has a population of about 1400 people, so we're not huge. Last K-Mart and chain stores are in Jackson and Rock Springs. Here are links to our local businesses. Also, more info about local businesses and services is available from the Sublette County Chamber of Commerce/Visitor Center, www.sublettechamber.com, www.mountainmancountry.com, 1-888-285-7282 (weekday regular business hours). We have a beautiful new visitor center in "downtown" Pinedale. Watch for the log building next to the Cow Mural on the north side of US 191/Pine Street as you go through town. They have bathrooms, free maps, lots of local info.

Pinedale is the location of the Pinedale Ranger District office for the Bridger-Teton National Forest for the forest map, guide books, information, etc for the Big Sandy area. Pinedale also is the location for the Sublette County Sheriff's office and medical services for this area.

The last chance for gas, snacks or restrooms is in Farson and Pinedale. Emergency services will be at least an hour away from you once you leave the towns, so please stock up and make yourself and your group as self-sufficient as possible to keep yourselves sustained for at least 24 hours without help if you get stuck, a flat tire, or in some emergency situation. We have excellent emergency responders, but distance and rural roads makes response time take longer to reach people in trouble out in our rural areas. (Note, many of our fire, ambulance, and search & rescue emergency responders are volunteers from the local communities. They leave their regular daily jobs at a moment's notice when the tone goes out to respond to an emergency call. We know with this many people coming for the Rainbow Gathering that there will be an increased load on our local emergency response services. We just want to make you aware how much of those services here are provided by volunteers from our communities who have regular other day jobs and are not paid emergency personnell or staff. They are doing this as community service, with the support of their employers that they can just drop everything and leave when the call goes out for an emergency.)

Post Offices are located in Pinedale, Rock Springs, Farson and Boulder. (updated Friday, June 13, 2008)

Some important supplies not to forget:
Spare tire
Sunscreen
First aid kit
Purification method for your drinking water
A good map of the area (DeLorme atlases are good)
Any medicines members of your party have to have

Clothing:
Bring warm clothing to layer, and extra blankets for your group. Temperatures can and do drop below freezing at night. Bring a sleeping bag rated for below freezing. Gals, if you get cold easily, wool socks, a comfortable sleeping cap and long johns will work well to keep you warm at night. We are high elevation and it is early spring. Our weather is very changeable, and typically on the "cool" side for those who are used to warmer climates. Typical temperatures are in the 50s to low 70s this time of year. Mornings are usually clear and calm. Clouds and winds typically pick up by noon and we can often get thunderstorms build up with showers and lightning in the afternoons. The high country can get snow showers. It's best to bring clothes to layer. Have a warm jacket, hat with a brim, and something to protect from rain. (updated Friday, June 13, 2008)

Current Weather:
See the National Weather Service/Riverton page: www.weather.gov/riverton. We will post any weather alerts that come in from them that notify us of upcoming drastic changes in the weather such as severe thunderstorms, snow advisories, etc. The NWS is very good about keeping their webpage current with advisories about important weather changes. (updated Friday, June 13, 2008)

About drinking water:
Consider all surface water to be contaminated with Giardia and some other particularly nasty organisms that will make you awfully sick. Water from lakes or streams should not be consumed without first purifying it either by boiling or with purification tablets. As beautiful and clear as the water looks, it is not recommended to drink any surface water without pre-treating it.

Cell phones:
Cell reception is typically good in the main travel corridors, but can get marginal to non-existent as you move into the drainages and mountain areas where the signal gets blocked. Depending on your service provider, you may or may not be able to get a signal as you progress into the Big Sandy Opening area. Big Sandy Lodge, at the end of the road, has a satellite phone in case of an emergency. Union Wireless and Verizon provide local cell service. A reader wrote in to say they use Alltel cell phone service here and it has good local coverage also. If anyone living/working in our area knows of other service providers that have good reception here, please e-mail us and let us know what companies that are working for you and we'll update this section. (updated Sunday, June 15, 2008)

Are there rattlesnakes here? (Updated Monday, June 23, 2008)
We've never heard of any, but.... Big Sandy is in a transition area. Pinedale does not have rattlesnakes. However Rock Springs does and the east side of the Wind river Mountains do, so it could be possible. Further north in the Wind River Mountains and sagebrush plains, no rattlesnakes for sure. Update: The Zoonotic Disease/Adverse Health Events Report from Wyoming Regional Veterinary Public Health Coordinators for the week ending Friday, June 20, 2008 reported a possible rattlesnake bite to a human at Sweetwater County-Memorial Hospital of Sweetwater County (Rock Springs). The individual was treated at the ER and is doing fine. (Updated Monday, June 23, 2008)

Ticks (Updated Monday, June 23, 2008)
Yes we have them and they will be out. Ticks are very small and can hide in the most obscure places. We recommend checking yourself for ticks before going to bed at night to remove them before them become embedded into the skin. Also be sure to check children and pets (don't forget the scalp and unmentionables). Ticks can carry Rocky Mountain Spotted Fever. More info on ticks, Ticks and Diseases

Mosquitoes (Updated Monday, June 23, 2008)
Mosquitos will probably be out and could be quite bothersome. Bring your favorite repellant method. Mosquitos can be thick and voracious at times in the Wind River Mountains. We recommend having long-sleeve shirts and pants as a clothing option in addition to shorts and sleeveless tops. Those who choose to go all nude should be aware this decision may result in head to toe to everywhere mosquito bites. We recommend a mosquito repellant that contains DEET. West Nile virus has been reported in Wyoming already this year (www.badskeeter.org).

Wildlife
Big game you will likely see include deer, antelope and moose. Bears inhabit the area (both black bear and griz), but it is unlikely you'll see one with all the activity going on. Still, we recommend keeping a "clean camp" and being "bear aware" when venturing out on trails. The area also has mountain lions. The most likely dangerous animal (in our opinion) you might encounter would be a moose. These animals look slow and awkward, but they can move very quickly and can be deadly. Give them a wide berth. Warn children to stay away from them and not approach, don't throw rocks at them. Please keep dogs under control and away from all wildlife.

Re wolves: Yes, there are wolves here, but we don't think that will impact you in any way, if for no other reason than them staying away from the sheer volume of people that will be in the area of the gathering. The wolves seem to be content dining on wildlife and domestic livestock. The advice to protect your children and dogs probably still is a good idea, just because you'll be out in the forest and there are plenty of the normal hazards that apply being in that setting. (updated Friday, June 13, 2008)

What about dogs?
Pet owners should be aware that their four-legged friends might encounter big game (deer, antelope, moose, bear) or smaller (but still potent) critters such as a porcupine or skunk. Dogs seem to gravitate to porcupines, whether alive or as a dead carcus. Porcupine quills can be very painful to remove for your pet's face, paws and other body parts, so we encourage pets be kept away from them.

Children
Not sure what to tell you here. There are no nearby cliffs or caves to fall off of or into, however this is out in the forest. Kids can easily get lost or disoriented in the woods. Some folks have their young ones wear whistles as a necklace when they take kids with them camping. That way if the child gets lost, they can blow the whistle easier than yell for help. There are wild animals in the forest. The Big Sandy River may be fast flowing with spring melt, so children should be watched around any water. Be sure to put sunscreen on babies and small children. They can sunburn very quickly at our elevation with the thin atmosphere. We do not have poison ivy or oak here (to the best of our knowledge). There may be some stinging nettle in some locations.

Elevation:
The Upper Green River Valley is around 7,000 feet. The surrounding mountains go from about 8,000 to the highest of a little over 13,000 feet. For those of you coming from lower elevations, you may find the elevation will cause you to tire more easily and possibly even have some shortness of breath upon physical exertion. The elevation of the gathering site is around 8,500 feet. Big Sandy Lodge and campground/trailhead at the end of the road are at 9,085 feet.

Fishing Licenses:
Available in Rock Springs and Pinedale.

Where is the town of Big Sandy?
Contrary to what is still shown on some maps today, there is not now, and never has been, a town called Big Sandy. What is shown on the maps is just an intersection of two rural roads. There are no services there. If you're interested in how this came to be, ask and we'll explain it. It is a somewhat long, but interesting, story that has to do with rural post offices in Wyoming. The Green River Valley Museum in Big Piney has a wonderful book they recently put out that has more info on this topic. They are open Tuesday through Saturday from noon until 4:00 pm. Admission is by donation. Ask for "The Halfway Post Office" book (limited edition local book). (updated Friday, June 13, 2008)

Nearby attractions:
South Pass Historical Site
Oregon Trail (You'll cross it coming up from Rock Springs)
Lander Cut-off of the Oregon Trail (You'll cross it from Farson to Big Sandy)
Pony Express National Historic Trail
Museum of the Mountain Man (In Pinedale)
Yellowstone National Park
Grand Teton National Park
Bridger Wilderness
(updated Friday, June 13, 2008)

Your impact on other things going on in the vicinity.
There will be other people using the area and access road into Big Sandy. These include the guests of Big Sandy Lodge (located at the end of the road), hikers and back-country users going to Big Sandy Campground and trailhead, people fishing or hiking in the area, people riding ATVs or on horseback, vehicles hauling horse trailers, RVs or with ATV trailers. Please drive with care on the road and stay to the right on blind corners.

Complaints we've heard from the locals:
We understand that the comments below only apply to a select few people doing these things, but we want to pass along what we've heard in the way of activities that some locals aren't happy with. We ask that anyone doing these activities please not do these things without first obtaining the permission of the business or property owner.
- Panhandling in stores and harassing customers.
- Asking customers dining in restaurants for food off their plates.
- Going through garbage cans on private property.

Where can I get more information?

Pinedale Ranger District, Bridger-Teton National Forest
307-367-4326
Office located in Pinedale, just east of Faler's/Ridleys grocery store (the store with the big fish on top). If you stop in there to ask for help or directions to get to the Rainbow gathering, don't be surprised if you get a bit of a cold shoulder. The Forest Service asked the Rainbows to moved the gathering and the Rainbows basically thumbed their noses at them and the whole Forest Service permitting process for use of the Big Sandy area. Some people are very unhappy about the way this has unfolded and consider it extremely disrespectful of the Rainbows to the Forest Service, with whom we have a very good local working relationship, and to the local and regional communities who regularly recreate in that area and who pride themselves that they do follow the rules on how to use public land in the consideration of others. They will of course help you, but realize that it's a bit arrogant to ask for the Forest Service to help you get to a gathering they have made it clear they prefer not be at that location. (Update added 6/25/08)

Sublette County Visitor Center/Chamber of Commerce
Log building in downtown Pinedale on main street, by the "Cow Mural"
www.mountainmancountry.com
1-888-285-7282
info@mountainmancountry.com
Open weekdays, regular office hours

Sublette County Sheriff's Office
(Police, Fire, Ambulance, Search & Rescue)
Located in the courthouse building in Pinedale
Non-emergency dispatch: 307-367-4378
Staffed 24 hours

Town of Pinedale - Town Hall
307-367-4136, www.townofpinedale.com

Pinedale Aquatic Center (pool, showers)
www.pinedaleaquatic.com, 307-367-2832

Pinedale Online!
www.pinedaleonline.com
Office: 307-276-5699
Cell: 307-360-7689
Phone OK anytime, including evenings & weekends
Leave a message if we don't answer right away.
support@pinedaleonline.com
________________________________
Reader's Comments:
7/7/08: Hi Pinedale! Here's a suggestion for a news story for you: Compare and contrast the two recent events held by the Rainbow group and the Boy Scouts of America near Pinedale. Suggested topics:
- How many people were arrested at each event.
- How much trash was left on the ground at each event.
- How much impact to the sites resultted from each event.
- How did each event benefit the people of Pinedale and Wyoming? Thanks!
- R.S. Former Wyoming resident, Sarasota, Florida

7/6/08: "I just wanted to thank you again for all the wonderful information about the Rainbow Gathering that you have posted on your Pinedale Online Website. It has been a great resource for me in obtaining updates on the happenings at the gathering. The links that you have added are very useful. I especially appreciate the links to the "We the People radio talk show." I feel that I have gained tremendous insight into the Rainbow people that I may never have known if it weren't for your Website. The messages that you posted today from families/friends of the gathering's attendees is very touching and I am very grateful that you have offered your Website as a resource for people in this way. You have definitely gone above and beyond and should be greatly commended for your remarkable efforts. I will continue to visit your Website several times a day until the conclusion of the gathering. It has quickly become one of my favorites!" Thank you again, M., Oregon
7/6/08: "Rainbow thanks to you and the town! I have been to many a rainbow gathering since 1985 and your blog was superb and over the top and a credit to the community you serve in Pinedale." Thank you again and many blessings, K.
7/1/08: "Thanks for all the useful information on this site."
6/25/08: "The information on your site, and the spirit in which it's compiled, has made me even more excited about coming. I've been admittedly demoralized by the situation with the Scouts and all the dimensions to it, feel terribly for them and for Mark Rey, frustrated at how it's been handled across the board; however, I'm hopeful that redeeming facets will coalesce..."
6/23/08: "The Pinedale website has been a wealth of information and has been displayed without prejudice to those who chose to attend The Gathering...I would like to thank-you for your efforts to inform those who will be attending as such a service is good for all...." Thanks, M. from Boise...
6/19/08: "Thank you for the very helpful information online about the Rainbow Gathering. It was awesome." – Chuck, Moran, Wyoming
6/18/08: "Thanks for the great info posted on your website to assist the Rainbow gathers." – Bill
6/18/08: "did you know about the boy scouts using the same meadow that the rainbows are going to use? they are taking down old fence in the meadow where the gathering will be, and are to be stationed out of the old dutch joe gaurd station. it hasn't hit many places yet, but apparently the boy scouts have that area reserved for end of july. .. it may mean that the rainbows may have to move the gathering, but if they do not fix the problem it may mean the forest service will start to write tickets for a non permitted gathering as well. lets hope for a move to an area close by so that the town still gets the business! could mean close to a million dollars in business. big amount for sure in jeapordy." – Mike
6/18/08: "Thanks for all the good Rainbow Family information! It helps to have solid and fair coverage and information for local folks regarding the gathering. I appreciate your efforts." – A.
6/17/08: "Thank you for your very informative and impartial page. The info will be useful to Rainbow and Local folks. Well done!" -Rick, New York Rainbow
6/17/08: "We have a summer home in the Big Sandy openings, at Temple Creek. How many of the Rainbow Tribe are you anticipating in the area. Also we need the phone number of the Sheriff's department….We appreciate the updates on the Rainbow's. The area is so very peaceful and beautiful. I pray it will remain that way....." B, Wyoming
6/17/08: "I have been going to Gatherings for many years, was at the Gathering at Snyder Basin in '94, and this is the first time I have seen a newspaper local to the Gathering site do anything quite like this. Excellent work! You might note by the reminder to travelers that they have a good spare tire that in '94 the Rainbows ended up buying every can of Fix-a-Flat in Sublette county. I'll be bringing my wife and two year old daughter to the Gathering this year. We should me up in your mountains....and well out of your town! weekend before the first." – J, Knoxville Tennessee
6/16/08: "Thanks so much for the positive website concerning the upcoming Rainbow Gathering. We appreciate the welcoming gesture and know that the shared experience will be enriching and full of magic for all of us. Thanks." – George
6/16/08: "I just read your rainbow page. Very useful and helpful. Thanks so much
for the information and the Wyoming hospitality." Mike, Buffalo, New York
6/16/08: "Much Love and thanks to Dawn Ballou (and everyone else involved) for
the great resource on this years national gathering... (I especially liked the youtube video with the local business owners!!! if there's more of that I'd love to see it!!!!) I hope 'yall are having fun out there! See you soon!... …I hope you get a chance to get out into the woods yourself... not too often you get to see something like this right in your own backyard! (if you do go, don't hang out near the front, get further into rainbowland, say the main meadow...there's nothing else out there like it." - David
6/15/08: "Hello! My name is Karen and I have been to many Rainbow Gatherings in the past. I won't be able to make it to Wyoming this summer, but I recently ran across these excellent videos on youtube that might put some minds to rest, of those who live in Pinedale and are nervous about the hippies who are descending on their town! These are interviews taken of merchants in the towns closest to past gatherings, asking for their reactions to the Gathering and to how it all turned out in the end. I thought local merchants in Pinedale might like to see them." – Karen, California
6/12/08: "The rainbow family has arraigned for a town meeting to be scheduled on june 19th at the Sublette county library ....the time of the meeting will be 6pm....and all interested parties are encouraged and invited to attend....Undersecretary of Agriculture Mark Rey.. well be in attendance along with members of the usfs incident management team...representitives from the Woming Governors officer and the Attorney Generals office are expected to attend as well....if possible can you put this information on your events list ....IM sure that many folks in your area will be interested in attending and communicating with the Under Secretary as well ask asking questions of the rainbows .regarding the gathering ....and let me take time to thank you for posting links to the many interersting and informative Rainbow web sites .....Ive been attending gatherings since 1984 and I have found that open and frank communication leads to a spirit of cooperation and creates a peacefull and successful gathering for everyone involved." – Gary
6/12/08: "I've been a member of the Raibow Family since I was a kid, and I just wanted to thank you for your very nice coverage of the gathering here this year. Far more truthfull, and less maliced, then what I hear other people saying around town. Thanks again." – Frank, Wyoming
6/12/08: "Great site! Made me even more excited to go to the gathering this year. They always pick lovely areas but your looks like tops! Question is: Can we expect cell phone coverage at or near the gathering site?... I am from New Jersey and not used to such niceness from strangers except maybe at the Rainbow Gathering! I have been poking around your website since I sent you the question . . . really nice community website! Thank you again!" - Jonathan
________________________________
Relevant Keywords: rainbow gathering wyoming 2008, big sandy wyoming, dutch joe wyoming, big sandy opening, rainbow family, rainbows, farson, boulder, pinedale, rock springs, I-80, big sandy map, big sandy lodge, big sandy campground, big sandy wy pictures, photos of big sandy area, big sandy trailhead, big sandy wy bears, big sandy ticks, wind river range current conditions, big sandy river, dutch joe guard station, bridger-teton national forest, map for big sandy, rainbow coalition
________________________________
We welcome comments on this story. Please contact Dawn Ballou, Editor, support@pinedaleonline.com. We will not post comments that contain personal attacks or that we deem to be libelous or defamatory. We want to qualify the information on this page by saying we are scrambling to find "official" information to give out also. We are working from info we get from the Forest Service (currently scant) and e-mails we receive from those of you "in the know" who are organizing and attending the 2008 Rainbow Gathering. We're monitoring the blogs and trying to see what questions people are asking, and we'll post answers as best we can. Near as we can tell, there is no "one" official website for current and accurate information, and that appears to be intentional. As local visitor information providers, we're doing the best we can to give you all good information, but we're winging it a bit ourselves, so we appreciate those of you who have written and are giving us info. To see the most current version of this page, do a "Shift-Refresh" or "Alt-Reload" keyboard/browser button combination (press them at the same time) to force the refresh of the most current page from the server.




Related Links