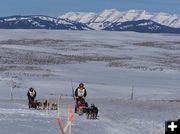 Upper Green to Pinedale

The Upper Green to Pinedale leg is one of the most scenic routes of the entire race. 2007 IPSSSDR race photo by Scott Almdale.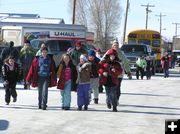 School kids come watch race

School kids are bussed over to watch the racers come into the Pinedale Finish Line. They always enjoy meeting the mushers after the race and seeing the sled dogs.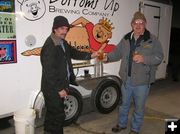 Bottoms Up

Bottoms Up Brewery has been a long-time supporter of the Pinedale Stage Stop of the IPSSSDR.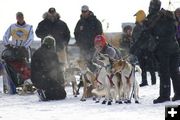 Big Piney Starting Line

Big Piney/Marbleton Stage Stop starting line at Middle Piney. File photo from 2007 race by Cat Urbigkit.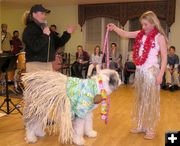 Doggy Fashion Show

In 2007 Big Piney/Marbleton held a Doggy Fashion Show. This year's event will be the "Let Your K9 Shine Dog Show". Pinedale Online file photo.

IPSSSDR Sled Dog Race next week
January 25 to February 2, 2008
January 20, 2008
The 2008 International Pedigree Stage Stop Sled Dog Race (IPSSSDR), which races from Wyoming to Utah will take place January 25 to February 2. The event stops in 12 towns and crosses two states over an eight day time period.

Nineteen teams have registered for the 2008 event, with each team bringing up to 16 dogs. With its unique "stage stop" format, the race stops in a different town every night, allowing teams to rest and earning the IPSSSDR the moniker "the dog friendly race."

The format also allows host communities to show their hospitality to mushers and spectators with a variety of lively, family-friendly events from fireworks to dog shows, torchlight parades to pancake breakfasts.

Pedigree® Food for Dogs is the title sponsor of the IPSSSDR. The Pedigree® brand actively supports a wide range of programs that promote responsible pet ownership and highlight the contributions dogs make to society.

The International Pedigree Stage Stop Sled Dog Race was founded in 1996 by Frank Teasley of Jackson to make sled dog racing more accessible to the public.

For more information, contact the race via e-mail at wystagestop@blissnet.com or phone at 307-734-1163.

For team bios and daily race results visit www.wyomingstagestop.org.

2008 IPSSSDR – Schedule of Events

Friday, January 25, Jackson
5–6:30 PM Pre-Race Headquarters, Wort Hotel
5–8 PM Winter Fest, Town Square/Pig Roast
6:30 PM Race Start, Town Square to Snow King
8–10 PM Musher Reception Party, Snow King
8 PM Torchlight Parade/Fireworks, Snow King

Saturday, January 26, Lander
6 PM Rotary Spaghetti dinner

Sunday, January 27, Lander to Pinedale
9 AM Race Start, Lander to Irish Canyon
Pinedale: 6:30 PM Pinedale Banquet

Monday, January 28, Pinedale to Big Piney/Marbleton
Pinedale: 9 AM Race Start, Cora to Pinedale
Big Piney/Marbleton: Let Your K9 Shine Dog Show
6 PM Dutch Oven Reception, Big Piney

Tuesday, January 29, Big Piney/Marbleton to Alpine
Big Piney/Marbleton: 9 AM Race Start, Middle Piney parking lot
Alpine: 6:30 PM Community Center Dinner

Wednesday, January 30, Alpine to Kemmerer
Alpine: 9 AM Race Start, Greys River
Kemmerer: 6:30 PM Banquet, Eagles Hall

Thursday, January 31: Kemmerer to Evanston
Kemmerer: 7 AM Breakfast on the Trailhead, 9 AM Race Start
Evanston: 6 PM Meet & Greet/Finger Food, Uinta County Complex

Friday, February 1, Bridger Valley to Mountain View
Bridger Valley: 10 AM Race Start, North Slope Road, 30 miles south of Evanston on the Mirror Lake Scenic Byway
Mountain View: 4-6 PM Musher Mania, Mountain View Town Hall

Saturday, February 2, Lyman to Park City
Lyman: 7 – 9 AM Flapjack Frenzy, Heritage Barn in Lyman on Business Loop 80 across from Lyman High School.
10 – 11:45 AM Meet the Mushers (Quinns Junction Sports Complex)
12 Noon – 2 PM Race Start/Finish (8 miles)
3 – 4 PM Jr. Stage Stop
6 PM Awards Banquet