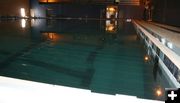 Competition Pool

The competition pool was filled with 478,000 gallons of water by Friday, June 1. The pool is not ready for swimmers just yet. The temperature is 36 degrees right now. They are hoping to have the competition pool open for swimming in early August.


Pinedale Aquatic Center
by Pam McCulloch, Pinedale Online!
June 2, 2007

The pool is full! Members of the media and several members the community were invited to tour the Pinedale Aquatic Center on Friday, June 1. Dennis Seipp, Sublette County School District # 1 construction manger, showed off the progress that has been made. According to Dennis, the contract date is in mid-August. Below are some pictures of different areas of the Pinedale Aquatic Center.

Photos by Pam McCulloch, Pinedale Online!