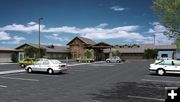 New Pinedale Clinic

Conceptual Drawing of new Pinedale Medical Clinic. Drawing courtesy Sublette County Rural Health Care District.

New Pinedale Clinic set to open Nov. 2007
January 22, 2007
The new Pinedale Medical Clinic is set to be constructed and ready to open by November, 2007, according to Randy Johnson, Director of the Sublette County Rural Health Care District.

The new clinic will be built just east of the present clinic, on the hill on the east side of Pinedale. It will be next to the Pinedale Ambulance Barn.

The new 14,757 square foot facility will have all the current services, plus a state-of-the-art Urgent Care area, observation beds and quarters for on-call staff. There will be expanded offices, exam rooms for visiting physicians and a new helipad for LifeFlight transports.

Staff will continue to be primary care physicians, said Johnson: Family Practice, Internal Medicine and Pediatrics. The facility will be able to handle the visiting physicians for orthopedics, OB, urology and others who bring their services to Sublette County. Staff will have current certification in trauma, cardiac, basic and pediatric life support, as they do now. Any new hire staff will be required to have sufficient experience with "frontier" medicine.

Construction is expected to resume sometime in mid-February after the structural steel is delivered. The foundation and preliminary groundwork have already been completed.

For more information about the new Pinedale Medical Clinic, and to see pictures of construction updates, check out our Construction Updates page.