Fire Update
Friday, October 5, 2001 update
All closures have been lifted.
All trails now open.
Partial fire restrictions lifted on BTNF, but remain on BLM & Game & Fish lands.
Current fires on the Bridger-Teton National Forest:
Bondurant, WY: The Highland Fire, which has been burning since September 21st, was accurately mapped at 53 acres. This fire is being actively managed as a Wildland Fire Use for Resource Benefit to produce positive impacts to the surrounding resource. This fire is located two miles west of Granite Hot Springs, in the Gros Ventre Wilderness and has been relatively active since Sunday afternoon when it moved into a dense stand of fuel, producing a large column of smoke visible from great distances. This fire does not threaten any structures and Fire officials will continue to monitor the fires progress by air.
Wilson, WY: The lightning caused Taylor Fire located near Taylor Mountain seven miles south of Wilson Wyoming was contained September 28th at 5:00 PM and controlled September 29th at 12:00 PM. Crews will continue to perform mop up operations on this fire for the next several days.
Afton, WY: The Upper Cabin Creek Fire is located nine miles northeast of Afton Wyoming, southeast of McDougal Pass, near Upper Cabin Creek. This 1/10-acre, lightning caused spot fire was been responded to by two Helitack crewmembers that extinguished the fire at 10:00 am Tuesday and were demobilized.
The Lake Alice Fire is located on the eastern edge of Lake Alice, approximately 7 miles south of the La Barge Meadows Guard Station and twenty miles southeast of Afton. This fire one acre, human caused fire was reported Saturday and was extinguished by nine firefighters at 6:32 PM Monday.
If you have regarding these fires, please contact the Bridger-Teton National Forest at (307) 739-5500.
Partial fire restrictions have been lifted for the Bridger-Teton National Forest, but remain in effect on BLM and Game & Fish lands. Open fires are permitted only in developed campground facilities and charcoal and wood fires are prohibited in the backcountry. Only propane or liquid fueled stoves are allowed in back
country areas.
As hunting season is open for various species, back country users are urged to wear flourescent orange hats, vests, or other clothing to make them more visible to hunters.
Earlier Updates:
Monday, September 8 update
Wednesday, September 5 update
Monday, September 3 update
Friday, August 31 update
Wednesday, August 29 update
Wednesday, August 22 update
Tuesday, August 21, noon update
Monday, August 20 7pm update
Monday, August 20 10am update
Sunday, August 19 update
Wednesday, August 8 update
Wednesday, August 1 update
Sunday, July 29 update
Friday, July 27 update
Wednesday, July 25 update
Tuesday, July 24 update
Monday, July 16 update
Monday, July 9 update
Sunday, July 8 update
Saturday, July 7 update
Friday July 6, 2001 9 pm update
Friday, July 6, 2001 8 am update
Thursday, July 5, 2001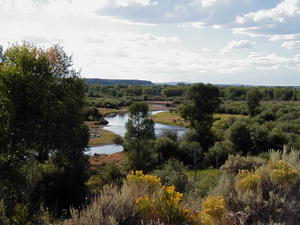 Cooler fall temperatures have caused the Bridger-Teton National Forest to lift the partial fire restrictions from National Forest lands, but they remain in effect on BLM and Game & Fish lands.
Where to get more information:
Bridger-Teton Fire Info
Jay Anderson, BTNF Public Affairs, Jackson
307-739-5542

Big Piney Ranger District
315 S. Front, Big Piney
307-276-3375
Where to report fires:
Sublette County Sheriff's Office
911 or 307-367-4378
Pinedale Ranger District
307-367-4326
Big Piney Ranger District
307-276-3375
BTNF Supervisor's Office (Jackson)
307-739-5500
Teton Fire Dispatch
(Grand Teton Park in Moose)
307-739-3630
307-739-3300
Callers are reminded that if they are using a cell phone, they may not get a local office when they dial 911. The best place to call for area fires is either the local Sheriff's office or the Bridger-Teton Fire Office. Be prepared to give a location of the smoke, your name, where you are calling from, and how they can get ahold of you again for more information if needed.