---
We are thankful for...
Our western way of life...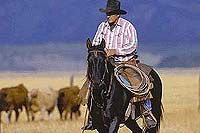 The country we live in...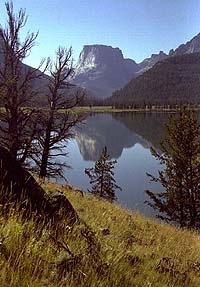 The natural beauty all around us...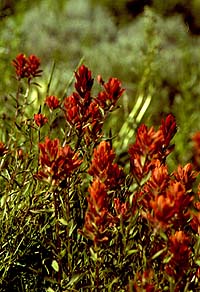 Best wishes from all of us to all of you
for a very Happy Thanksgiving!
Monday, November 22nd


New! The Sublette County Journal classified ads are online!
Now, in addition to news stories, you can read the classified ads from each week's Journal online! Find out what's for sale, homes for rent, real estate, help wanted, and more! Journal Classified ads
Aerial Photos of Pinedale: Many thanks to all of you who took the time to e-mail us saying you'd like to see more aerial photos of the Pinedale area, and for all your wonderful comments! We've added 40 aerial pictures to our Photo Gallery taken during a plane flight earlier this spring of Pinedale, lakes, White Pine ski area, the historic Green River Rendezvous grounds, and the Pinedale airport. Aerial Photos
Kicking off the holidays: This weekend the annual Pinedale Fine Arts Council Black Tie & Blues fabulous fundraiser will be held at the Old Pinedale Library on Saturday, Nov 20th starting at 6:30 pm. This year a $100 raffle ticket buys you a chance to win the $5000 Grand Prize, $2000 Second Prize, $1000 Third Prize, $500 fourth Prize, or one of five $150 prizes! There's also many "Adventure Prizes" valued at over $100 each. Dress is casual or formal. There will be music, a silent auction, food, and much more! Don't miss it!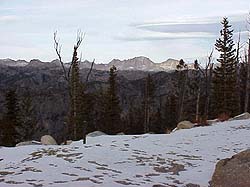 Where's the snow? This photo of the Wind River Mountains was taken Friday from the overlook near Elkhart Park on Skyline Drive. The road is still mostly clear all the way to the top!
White Pine Ski Area update: Stuart Thompson spoke to the Pinedale Area Chamber of Commerce on November 9th and gave an update on the ski area. If the weather cooperates, the ski area is on track to open around December 20th. Lift tickets will cost $22 for an all-day pass, half-day tickets will cost around $16 (tentatively). Season pass prices will depend on when the season starts as to what they cost. Skiing Page
Elk Season Hunt won't be extended: While some of us are enjoying the late fall, it hasn't helped elk hunters bag their game at all. Still, the local Game & Fish Office says they will NOT be entending the seasons on any local elk hunt areas.

What's happening On the Ranch? What's Bo into now, and how well does Cris do after her 30-second John Deere tractor driving lesson? Why are the chickens on strike? Find out On the Ranch
All in a day's work for local Law Enforcement: Driving down the highway last night the car headlights spotted a cow happily walking down the middle of the dark highway. Didn't want to risk oncoming traffic and try to corral the critter myself. (Dark cow on dark highway = bad combination.) So I turned on my hazard flashers and did my best to warn oncoming traffic and keep her off the highway between my car and the right of way fence. Dialed up the local Sheriff's Office on the trusty cell phone and a car appeared minutes later spotlighting the escapee in the darkness. The officer turned on his emergency lights, made a couple of quick turns with his vehicle, and within a minute had the bovine in front of his rig. A helper opened a gate into her pasture and with one quick forward motion with the car the officer guided her through a gate and back into her pasture. Slickest job of cattle wrangling with a patrol vehicle I've ever seen! Yeehaw!
(To my old friends, Officers Mike & Theresa with the Yakima Police Department, and Judge Carol, don't you wish that was the worst problem law enforcement everywhere had to deal with? - Dawn)
What do you think? Pinedale Online was created to be an online visitor's guide to the Pinedale, Wyoming area. We have over 150 pages of information about outdoor recreation, activities, area attractions and much more. We just recently added current news stories from The Sublette County Journal and On the Ranch stories about life on a real Wyoming ranch. You may have noticed that all of this comes to you without any advertising banner ads. (Anyone wishing to send a very large donation to help support our efforts to keep Pinedale Online's content non-commercial please send it to the address at the bottom of this page!) Is there something in particular you would like to see us put up on this site in the future? More photos? In-depth articles? More news? More on outdoor recreation or wildlife? Please let us know! e-mail support@pinedaleonline.com
Monday, November 12th - Winter Cancelled Due to Lack of Interest
Or so it seems anyway. Last month was one of the warmest, driest Octobers on record according to the weather statistics. November seems to be following suit. Still no snow on the ground in Pinedale, and the long-time locals can't remember a late fall like this since 1939/1940. Not too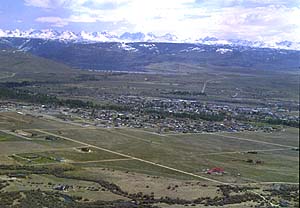 many people are complaining about the blue skies and shirt-sleeve temperatures, but we'll be wanting snow soon for snowmobiling and skiing. Preferably not on the day we decide to hit the road to travel for our holiday vacations though.
Do you like the above photo of Pinedale from the air? From the ground you just don't realize how close town is to Fremont Lake and the mountains. We have lots more aerial pictures of Pinedale we took during a flight earlier this year with close-ups of town from the air, the Green River, the airport, and some of the lakes. E-mail us if you'd like to see more! support@pinedaleonline.com
Monday, November 8 - The bad news: Pinedale Wranglers defeated 28-16 by Lusk in State Championship game Saturday.
The good news!: The 12-woman Pinedale Lady Wrangler Volleyball team captured the 1999 2A Wyoming State Championship. This is the first time Pinedale has returned home with a state champsionship in volleyball. The Lady Wranglers are coached by Bev Walker and Diane Willson. Coach Bev Walker received the Coach of the Year award for the 4th year. November 4th has been proclaimed Lady Wrangler Day by Pinedale Mayor Rose Skinner.
This year's Halloween had to be one of the best weather-wise we have seen in years! The ritual trick-or-treating was a real treat without the traditional foot of snow to trudge through. Mothers breathed a sigh of relief that our resident mountain lion didn't decide to go after one of our little goblins either.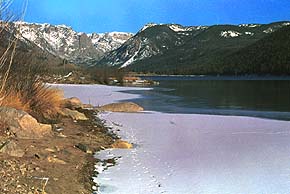 You can tell that hunting season is over around here because we're seeing lots of deer now. We must have seen about a hundred on a quick afternoon drive southeast of Boulder over the weekend. This morning we saw 10 deer just on the 8 block drive to work, including a buck sporting the biggest antler rack we've seen all year calmly bedded down in someone's front yard.
Holiday events are lining up! The Pinedale Fine Arts Council presents Violinist Benny Kim on Saturday, November 13th at the Pinedale Auditorium. On Saturday, November 20th, PFAC will hold their annual Black Tie and Blues fundraiser at the old Pinedale Library on Saturday, November 20th. In December, don't miss the annual Wreath Auction at the Museum of the Mountain Man on the 3rd. Sweet Harmony will have their Christmas concerts on December 2nd and 4th. The Pinedale Chamber of Commerce has lined up their annual Christmas Shop at Home weekend for December 3rd and 4th. Lots of events are planned including a parade, tree lighting, pictures with Santa, and special evening shopping hours at local stores. The Tour of Homes will be on December 11th, and the Community Christmas Craft Fair will be Friday and Saturday Dec. 10-11 at the old Pinedale Library. Keep checking our Calendar of Events page for the latest happenings.
We'd like to welcome two new web pages to our Pinedale Online site, the Sublette Citizens for Recycling and the Pinedale Preschool! The Sublette Citizens for Recycling operate and maintain the Pinedale Recycling Center and are responsible for keeping many tons of recyclables out of the landfill every year. 90% of the work at and for the recycling center is done by volunteers. They are working to get recycling services started in Big Piney soon. November 15th is the 3rd annual America Recycles Day, designed to encourage consumers to purchase recycled content products. Enter the drawing to win a free house! The Pinedale Preschool provides holistic early childhood education for children 2-1/2 to 5 years. Please visit these new pages!
The Hi-Country Senior Citizen Center of Pinedale is asking for help to fund their the many seniors and handicapped people in our area. They provide services both at the Senior Citizen Center and county-wide through adult home care programs. Their state and federal funding is very limited and they have had severe cuts in their funding. In order to keep their services of meals, Meals on Wheels, social and recreational activities, public transportation, and in-home care in place, they are appealing for local contributions. As a 501(c)(3)non-profit corporation, contributions are tax deductible. If you wish to help, please contact Pat Kirol at 307-367-2881 for more information.
Last week the Ninth Judicial District Judge issued a permanent injunction against Stuart and Mary Thompson ordering immediate compliance with county zoning regulations on their agricultural land. The order permanently enjoins the Thompsons from using their property to operate their log home business, Logcrafters, as well as to store or repair ski equipment for the White Pine ski enterprise.
What's happening On the Ranch with Cris? She's pretty much recovered from being bucked of Taz and sends her thanks to all those folks who wrote and called to see if she was ok. You have to see the picture on her front page this week! On the Ranch
Saturday, October 30th - Beautiful sunrise!
Wednesday morning brought one of the most beautiful sunrises we have seen in a long time over the Wind River Mountains. Cris Paravicini, writer and photographer for The Sublette County Journal and our own On the Ranch Cowgirl, captured the photo above of the sunrise on the Green River on her ranch near Daniel. What's happening On the Ranch with Cris? Read her story about getting bucked off by Taz!
The Pinedale Wranglers are going to State! Wranglers beat the Rocky Mountain Grizzlies 18-7 at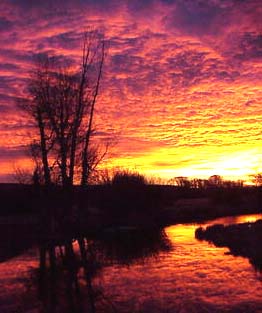 the semi-final playoff game!
About those cell phones in the backcountry. Whether you think they belong in the wilderness or not, there are times when having a cell phone can make a difference. Last week a Reliance man got lost in the Big Sandy Irish Canyon area of the Wind River Mountains. He used his cell phone to call for help and was talked to safety by Sublette County Sheriff's Department personnel relaying directions.
And don't think getting lost can't happen to the locals either. A Pinedale girl and friend from Idaho got lost hunting in the Jim Lake, Wolf Lake area of the Bridger Wilderness opening day of elk hunting season. Both were found cold but safe the following afternoon by search teams and helicoptered out.
It's a good idea to bring basic survival equipment with you when you're out in the back country, even if you're only planning on being out for a couple of hours. A compass, space blanket, candle, matches, warm hat and gloves, dry socks, high-energy foods, and of course water are good things to carry in your day pack and keep with you.
Saturday, October 23rd - Not ready for winter yet
Last week we said, "A change is coming in the weather...", and the foothills did get a couple of inches of snow, but Mother Nature isn't ready for winter yet and we're back to our wonderful mild (high 60s) fall weather. But winter, and the inevitable colder temperatures and snow, will surely come. Many of the human "snowbirds" have left for their winter homes in warmer climates, and the geese are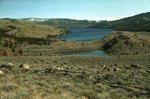 moving in larger flocks. The Veritas folks have also packed up and moved on. Their building and the parking lot seem so empty now after the constant activity of this past summer. What nice folks they all were!
Sports news: We're all pretty proud of the Sublette County Swim Team! In case you haven't heard, they took 1st place at Saturday's 3A Western Conference Championship in Lander, winning the title by 41 points! Pinedale Coach Bob Maxam, together with Big Piney Coach Sean Walker, was honored as 3A Coach of the Year. Big Piney senior Chelsea Linn was named Swimmer of the Meet. In high school football news, the Pinedale Wranglers beat Big Piney, 30-13 last week to claim the Sublette County Bowl traveling trophy. With this win, the Wranglers extended their winning streak to 4 games. The Pinedale Lady Wrangler Volleyball team battled it out last Thursday with the Big Piney Lady Punchers in the last home game of the season.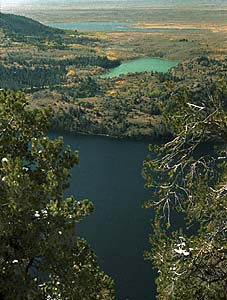 Pinedale won the match in two: 15-8, 15-4.
Mountain Lion news: The talk about town this past week has been about the mountain lion that has taken up residence along Pine Creek. The novelty has worn off and now there is concern of the danger of having a large predator roaming where one of our children might be its next victim. The call is out to the Game & Fish to try and capture and relocate it to a more suitable home. Read the latest update in The Sublette Country Journal's online article at left.
Jonah Gas Gathering Company held a ceremony at the Luman Compressor Station in the Jonah Field south of Pinedale on Saturday to dedicate the new 20" natural gas pipeline that went online September 1st. The new pipeline nearly doubles the flow capacity to the rail hub at Opal, Wyoming, translating into increased revenue for McMurry Oil, and for Sublette County mineral tax coffers (Sublette County is the largest natural gas producing county in Wyoming). JGGC is a subsidiary of McMurry Oil.
We have to add that McMurry Oil has some of the hardest working, and most community-oriented people, we have ever met. We'd like to thank the McMurry family for their many contributions to our community over the last several years! The tireless, behind-the-scenes efforts of the McMurry family have made many wonderful programs possible here in Pinedale.
Friday, October 15th, A change is coming in the weather...
The weatherman says a cold front will move through Wyoming today changing the weather to much colder conditions with some snow accumulations in the mountains. Thatís great news for the winter enthusiasts who are itching to get on those snowmobiles and skis and the hunters tracking the elusive elk. Itís not so great news for those who arenít quite willing to give up the beautiful late fall weather and warm temperatures weíve been enjoying for the past couple of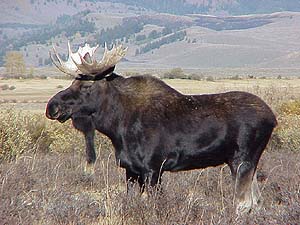 weeks.
We all knew it couldnít last, and now the weatherman says periods of light snow will spread from north to south late Friday afternoon and Friday night, ending Saturday morning over the lower elevations. Temperatures will be cooler dropping from the middle 40s to middle 50s to only the upper 20s and 30s. Brisk winds will bring cold wind chill temperatures and roadways will be slick and possibly snow packed in places. Ranchers will be scrambling to protect their livestock and weíll all be working hard to finish up the last of those outdoor activities that need to be accomplished before the weather changes
The weather has been gorgeous all week! Cold and crisp in the mornings - warm in the afternoons. The leaves have lost their pretty fall colors and are falling to the ground signaling winter isn't too far away.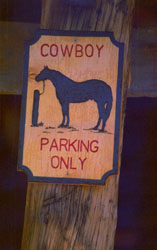 Last Friday the Pinedale Wranglers beat the Saratoga Panthers, 48-0. Wranglers face Shoshoni Friday the 8th. If they win, it will be their 4th conference championship in a row.
The Wyoming Game & Fish Department reminds hunters of some of the top hunting violations.
Hunters must visibly wear a fluorescent orange vest/coat hat or both.
It is illegal to shoot from or across a public road when hunting or target shooting.
Hunters must have permission to enter private land in Wyoming, even if the intent is just to cross the private land to reach public land.
Poaching Hotline: 1-800-442-4331. Callers may remain anonymous.
Construction began yesterday on the Sublette Ag Center at the county fairgrounds in Marbleton. The multi-purpose center will be used for rodeos, ropings, FFA, 4-H, and other equestrian activities. On Monday, Pacific Power donated $10,000 to Sublette County to go towards the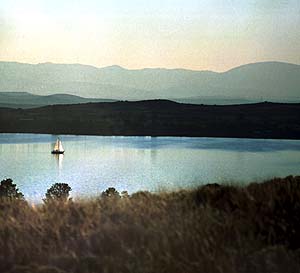 construction of the center.
What's happening On The Ranch? Cris and the gang have to round up an angry 2,000 pound angus bull that decides to jump a barbwire fence and take a stroll.
Saturday, October 2, 1999: The geese are joining up and large flocks can be seen crossing the skies. The first snowfall of the season dusted the valley floors last Monday, but didn't last more than a couple of hours. It was enough to get folks moving on getting their firewood in and taking the 4-wheelers out of the backs of their trucks and pulling out the snowmachines. Many locals can still be seen in short sleeve shirts, but most have begun to slip on warmer sweaters, at least during
the mornings. We're all getting back into the swing of getting the car started up about 15 minutes earlier so the engine can warm up and the defroster can melt the coating of frost on the windows.
The Pinedale Fine Arts Council presents Ronnie Bedford & Friends concert on Wednesday, October 6th at 7:30 pm at the Pinedale Auditorium.
Gannett Peak - You avid mountain climbers out there might take another look at our Gannett Peak page. We've added more information, links to accounts of people who've climbed it before, and other useful information to help you plan your big trip here to tackle the mountain!
Photo credits: "Bull Moose" and "Sunrise" by Cris Paravicini. "New Fork Lake", "Sailing on Fremont Lake", "Cowboy Parking", "Half Moon Lake" and "3 Lakes" by Pinedale Online. Copyright 1999. All rights reserved. May not be reproduced without permission.