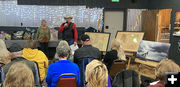 Live Auction

Clarica Pinkerton (L), Director of the Green River Valley Museum, and Auctioneer Dave Stephens, start the live auction.


Hardhats and Stetsons
Fundraiser for the Green River Valley Museum
by Pinedale Online!
February 19, 2023

The Green River Valley Museum held their Hardhats and Stetsons event on Saturday, February 18th at Waterhole #3 in Marbleton. The event was a fundraiser to help them raise money to help restore a new building they recently acquired, the old Texaco gas station across from the Museum in Big Piney. The money raised will be matched up to $11,000 by a generous grant from the Wyoming Community Foundation. The event included a live and silent auction with many gift baskets donated by members of the community. Dave Stephens was the auctioneer for the live event.

The new old building has been many things over the years, including a Texaco gas station and a public library. Now, as part of the Museum, their plan is to renovate it and bring it back to life. "This renovation project is the largest fundraising goal that the museum has had since its inception thirty years ago, and we'll need all the help that we can get to see it through. Once the building has been restored, our plan is to use it for new exhibits, much-needed storage, and a brand-new South Sublette County Visitors Center," according to the Museum website.

For anyone who wants to donate, but missed the Hardhats and Stetsons fundraising event, the Museum has created a GoFundMe page here: https://www.gofundme.com/f/greenrivervalleymuseum.

The Museum is located at 206 N Front Street in Big Piney. They are open during the summer season. Admission is by donation. Find them online at www.grvm.com and on their Facebook page.