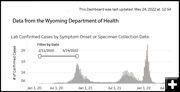 Cases in Wyoming

As of May 24, 2022. Data from the Wyoming Department of Health.


COVID-19 in Wyoming as of late May 2022
Cases have dropped to low levels in March through May
by Pinedale Online!
May 29, 2022

The most recent data from the Wyoming Department of Health (WDH) shows that new cases of COVID-19 have dropped dramatically in Wyoming since late February 2022 and have stayed low for the past three months of March, April and May. There has been a total of 40,805 lab-confirmed and probable cases in Wyoming in 2022. There have been a total of 157,861 total cases, lab-confirmed and probable, in Wyoming since the pandemic began more than two years ago.

Laramie, Teton, Fremont and Natrona Counties have had the highest case rates in 2022 (5187, 3708, 3514, 3383 respectively).

Hot Springs, Niobrara and Sublette Counties have had the fewest cases in 2022 (95, 158, 170). Sublette County went all of April 2022 with no new cases reported. There have been 4 cases reported in Sublette County in May of 2022.

There have been 202 reported deaths in Wyoming in 2022 from the virus, 1820 total since the beginning of the pandemic. To date, there have been no deaths of anyone age 18 or under in Wyoming over the 2-1/2 years of the pandemic. Sublette County has had 2 deaths reported in the first five months of 2022 from the disease, total of 27 deaths since the beginning in July 2021.

The overall vaccination rate for the state of Wyoming is 46%. Across the state, 75% of seniors age 65 and older have been vaccinated. This is the age group that has been the most vulnerable and at risk of dying from COVID-19. Sublette County has an overall vaccination rate of 35%. Teton County has nearly 90% of their entire population fully vaccinated. Teton County has had 16 deaths attributed to the disease since the pandemic began, 2 in 2022.

There have been 28,193 cases of COVID-19 among people who have been vaccinated in Wyoming as of late May 2022. The latest chart from WDH indicates that nearly all of new COVID-19 cases in Wyoming are among vaccinated and boosted individuals. According to the Centers for Disease Control (CDC), people who have had the vaccine can still get COVID-19 and transmit it to others.

The breakthrough case numbers are difficult to analyze because they are given as case rate per 100K, and they lump people who get the virus in the 2-4 week window after having been given their shots into the unvaccinated category. Wyoming's entire population is only about 581,000 people. WDH does not break out accurate counts of the number of people who have tested positive for the disease who have never been vaccinated and those who got the disease within the 2-4 week window after having had the shot before being considered fully vaccinated. Death data is done the same way. We do not have accurate information on how many people died testing positive for COVID-19 within the 2-4 week window after having been vaccinated – those deaths have been thrown into the unvaccinated category, which skews that count as well.

Most of the United States and Wyoming are in Low COVID-19 community levels as of the end of May 2022, according to the CDC. The northeastern states, around the Great Lakes, and parts of Hawaii are still dealing with medium to high community levels of the disease as of May 19, 2022, according to the CDC. The variant of concern in Wyoming is Omicron. Variants still being monitored and detected in Wyoming include Alpha, Beta, Delta, Eta, Gamma, Iota and Kappa.

Most countries around the world have seen their case and death rates due to the disease decline dramatically in March and April 2022, according to Johns Hopkins University Coronavirus Research Center dashboard map.