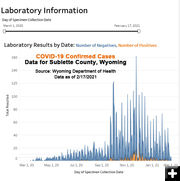 Negative vs Positive cases

The vast majority of the COVID-19 test results in Sublette County have come back negative for the virus. Data from the Wyoming Department of Health.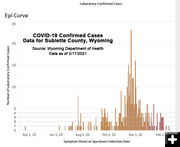 Sublette County positive COVID-19 cases

Positive cases in Sublette County have been very low compared to the total population (around 8,000 people). Note the left scale on this graph only goes up to 25. The vast majority of daily cases has stayed under 5, except for a surge in mid-November 2020, which still stayed mostly in the range of 15 cases per day.


Sublette COVID-19 update – Feb. 17, 2021
8th day with no new cases in Sublette County
by Pinedale Online!
February 17, 2021

According to the Sublette COVID-19 Task Group, active COVID-19 cases are trending downward statewide, with less than 750 active cases. Today, Sublette County has 2 active cases, with 660 recoveries, and 7 deaths, for a total of 669 cases since the pandemic began.

Sublette County had only 2 new COVID-19 cases last week, down substantially from the 17 cases the week prior. This is the lowest number of active cases in Sublette County since August 2020.

The Wyoming Department of Health reported 15 additional coronavirus-related deaths on Monday, bringing the state's total to 662.