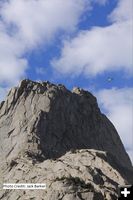 Short Haul

Photo by Jack Barker, courtesy Tip Top Search & Rescue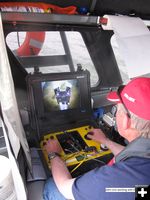 Working with ROV

John Linn working with ROV for underwater searches. Photo courtesy Tip Top Search & Rescue.


Tip Top SAR keeps busy with searches and rescues
by Kenna M. Tanner, Tip Top Search & Rescue
August 16, 2019

PINEDALE, WYOMING, August 16, 2019
As of August 16, Tip Top SAR has responded to 19 missions this calendar year, with 11 happening since July 1st.

Tip Top Search and Rescue has been busy in the Wind River Mountains the past few weeks assisting hikers and climbers. These outdoor enthusiasts were affected with altitude mountain sickness and needed assistance out of the mountains to seek medical attention. We want to remind those considering trekking into the high country to take extra time to acclimate if you have come from lower altitudes, hydrate well, rest as needed during the trip, and be alert to the signs and symptoms of altitude sickness to thwart any serious medical conditions that can ruin any adventure.

Tip Top SAR has also been helping our neighboring counties with specialty equipment and the expertise of specially-trained members. Tip Top SAR has side-scan sonar equipment that uses sonar technology to provide the trained user with visual images during underwater searches. A towfish is lowered into the water and the sonar sends out signals that reflect off objects underwater and creates visible shadows that our team uses to determine if further investigation is needed. Once enough plausible clues are gathered, Tip Top SAR can lower a remote-operated vehicle (ROV) that has a live camera, a grasping claw device, and thrusters to allow the operator to move it around. The live-feed is then analyzed on the deck of the boat via computer. Tip Top SAR's underwater team is led by John Linn who has been a member since 1984. John has traveled the country learning about side-scan technology, teaching his fellow SAR members, and has spent the past few decades helping locate missing people in the Rocky Mountain West since.

On July 26-28, 2019 Tip Top SAR was requested to assist Wasatch County Utah SAR with the search for two missing fishermen in Strawberry Reservoir. John Linn and Gary Wilson worked with several other SAR units to locate both drowned fishermen with our sonar device. The ROV enabled dive teams to successfully retrieve the victims. Tip Top SAR is also currently helping South Lincoln County SAR with a search for a missing man who fell out of a canoe on Lake Alice on August 12. Not only is John Linn joined by fellow Tip Top members Thom Rinker, Bruce Bartley, and Sublette County Sheriff K.C. Lehr, but Lincoln SAR members have been helping get the necessary equipment into the lake that is in a remote area not accessible by motor vehicle. Sublette County's leased Air Resources helicopter and pilot, Jason Legge, used a long-line to sling all necessary equipment to the water's edge Thursday, August 15. The team is currently attempting to rig the equipment onto a small boat to begin the search for the canoeist despite fierce winds that have plagued our county for the past week.

On August 10, 2019 Fremont County Sheriff's Office requested assistance with an injured climber on Pingora Peak, Cirque of Towers, in the Wind River Range. The initial request was for use of the leased Air Resources helicopter and Helicopter Manager to assist flying Fremont's High Angle team members into the Cirque so they could help the injured. The report was the climber had fallen on Pingora at about 11,800 feet. Winds grounded any air rescue activity from both the Fremont County side as well as the Sublette County side of the Wind River Mountains. Sublette County's Short-Haul team was placed on stand-by in case a window of opportunity opened to assist. This team is trained and specializing in rescue using Sublette County and Tip Top's helicopter is stationed about 12 minutes away from the Cirque of Towers if conditions cooperate. When the weather was safe to operate, Tip Top SAR was requested by Fremont County to go forward and attempt a Short-Haul Rescue. A reconnaissance flight was performed to see if the helicopter could safely get rescuers in and out of the area. Tip Top SAR members Milford Lockwood, Cody Wilson, and Lesta Erickson, under the care of pilot Jason Legge, were then able to successfully able to locate, package and fly the injured 67-year-old climber off the mountain ledge. The climber was lowered to the valley floor near Lonesome Lake and due to the extent of his injuries, the injured climber was immobilized in a vacuum mattress splint and prepared for transfer of care. Due to the winds and inability of a medical helicopter to meet us in the backcountry, the Pinedale Medical Clinic was chosen as the nearest destination with clinic staff and EMS personnel awaiting our arrival. A return flight to the Cirque to retrieve equipment and remaining TTSAR members finalized the rescue of this individual. It was at this time we learned that an additional climber had fallen in the same area and had succumbed to his injuries. Tip Top SAR members attempted for two days to enter the Cirque safely, but the dangerous high winds swirling inside the Cirque denied them access to Pingora Peak and from assisting Fremont County in retrieving the deceased climber. Fremont County was able to hike into the area and bring the climber to the care of the Fremont County Coroner.

The lengthy time needed to accomplish these extensive missions are great reminders of the sacrifice the volunteer members make to help when the need arises. It is not only the dedication of the members, but also their employers and families that allow our members to drop and run when they are needed. A HUGE thanks to our neighboring counties for trusting in our skills and requesting our assistance, to our Sublette County Commissioners who support our program, and to each member that has spent countless hours training to provide the absolute best care possible.