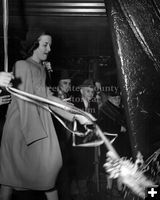 Christening the SS Rock Springs Victory

Eva Papich Rogers christens the SS Rock Springs Victory at the Oregon Shipbuilding Company in Portland, February 22, 1945 (Sweetwater County Historical Museum Photo)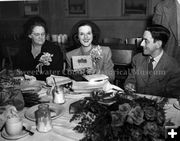 SS Rock Springs Victory's christening banquet

Eva Rogers, center, at the SS Rock Springs Victory's christening banquet, accepting a gift cigarette box. Museum records identify the woman on the left as Mrs. Estelle Wiggen and the man at right as Mr. Bob Cox. (Sweetwater County Historical Museum Photo)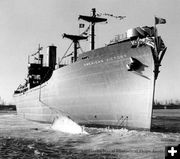 SS American Victory

The SS American Victory, a World War II Victory ship preserved as a museum ship in Tampa, Florida (Historic Naval Ships Association photo)


Rock Springs woman christened World War II ship
New book released about 100 notable Sweetwater County women, two talks, on July 18 and July 20
by Sweetwater County Historical Museum
July 18, 2019

(Sweetwater County, Wyo. - July 17, 2019) Among the women profiled in the new book, Sweetwater Women, is a Rock Springs resident who christened a ship during World War II, the Sweetwater County Historical Museum in Green River said in a media release on Wednesday.

In 1945, Eva Papich Rogers, a Union Pacific Coal Company switchboard operator in Rock Springs, was chosen when she won a special popularity contest to travel to the Oregon Shipbuilding Company along the Willamette River in Portland to christen the SS Rock Springs Victory, a 15,000-ton Victory-class cargo ship.

Victory ships were a class of World War II American cargo ships. An improved version of the earlier Liberty cargo ships, a total of over 500 Victories were built from 1944 to 1945.

The Liberty and Victory ships were instrumental in the Allied victory in World War II and were capable of carrying about 10,000 tons of cargo. They were crewed by seamen of the United States Merchant Marine, while the ships' armament, normally a 5-inch gun, a 3-inch gun, and an assortment of 20mm and .50-caliber machine guns, was manned by sailors of the United States Navy Armed Guard.

Though the Rock Springs Victory was scrapped in 1970, several Victory ships are still afloat as museum ships, including the SS American Victory in Tampa, Florida, shown here.

Sweetwater Women, by local author Christine Alethea Williams and Sweetwater County Historical Museum Director Brigida Blasi, profiles the lives of over 100 women, past and present, who have figured prominently in Sweetwater County history. Its official release will take place at two upcoming book-signing events in Green River and Rock Springs.

The first event, Sweetwater Women's official launch and book signing, is set for 6:00 PM on Thursday, July 18, at the Tomahawk Hotel in Green River. Williams and Blasi will be there, as will a special guest speaker: historian and rancher Ann Chambers Noble of Cora.

Noble received a B.A. in history from Bowdoin College and a M.A. in history from the University of Utah. She has published extensively on Wyoming history topics, and currently serves on the boards for the University of Wyoming's American Heritage Center, Buffalo Bill Center of the West's McCracken Library, and Wyoming State Review Board for the National Register of Historic Places.

Her topic on the 18th will be "The Equality State: Wyoming Women Lead the Nation."

The second event, a book signing with Blasi and Williams, is set for Saturday, July 20th, at Sidekicks Book & Wine Bar at 507 Broadway in Rock Springs from 11:00 AM to 2:00 PM.

The authors expressed their special thanks to the Tomahawk Hotel and Sidekicks for hosting the events and their work in advancing downtown development. Williams and Blasi see the release of Sweetwater Women as their contribution to the "Year of Wyoming Women," celebrating the 150th anniversary of women's suffrage in Wyoming.

Sweetwater Women is published through the Sweetwater County Museum Foundation, a non-profit organization that exists to support the museum. All proceeds from the book's sale go directly to the Foundation. It will be available at the museum on Flaming Gorge Way in Green river and online at Amazon.com.