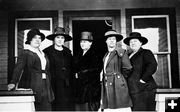 Jackson's all female town council

Jackson's all-female town council and mayor, circa 1920. From left to right, Town Councilors Mae Deloney and Rose Crabtree, Mayor Grace Miller, Town Councilor Faustina Haight, and Town Councilor Genevieve Van Vleck. (Jackson Hole Historical Society and Museum photo)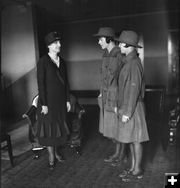 Governor Nellie Tayloe Ross

Governor Nellie Tayloe Ross with two Girl Scouts at the Park Hotel in Rock Springs, 1926. Photo courtesy Sweetwater County Historical Museum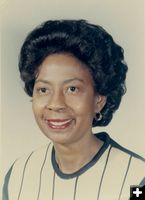 Harriet Byrd

Photo courtesy American Heritage Society, University of Wyoming


Wyoming led the way for women's rights
by Dick Blust, Jr., Sweetwater County Historical Museum
March 8, 2019

SWEETWATER COUNTY - March 8 is International Women's Day, which has been "celebrating the social, economic, cultural and political achievements of women" since 1975.

From its early days as a territory, and later, as a state, Wyoming led the way in pioneering women's rights.

The Sweetwater County Historical Museum in Green River is commemorating the following the following Wyoming firsts in a special timeline:

1869- Wyoming Territory becomes the first government on the planet to permanently grant women the right to vote. (The 19th Amendment granting national women's suffrage will not be passed for another 50 years, in 1919.)

1870- Esther Hobart Morris of South Pass City (then part of Sweetwater County) is appointed the first female Justice of the Peace in the United States. In Laramie, six women become the first to serve on a jury. Martha Symons Boies Atkinson of Albany County is appointed the first woman court bailiff in the world.

1894- Estelle Reel is elected Wyoming Superintendent of Public Instruction; she is the first woman ever elected to statewide office.

1920- Jackson becomes the first town in America to be governed solely by women, with a female mayor, town council, and town marshal.

1925- Nellie Tayloe Ross takes office as Governor of Wyoming, the first woman in the United States to be elected governor. Later she is appointed the first female Director of the United States Mint, a post she fills from 1933 to 1953.

1959- Harriet Elizabeth "Liz" Byrd of Cheyenne becomes the first full-time, certified African-American teacher in Wyoming when she is hired by the Laramie County School District. In 1980, she is elected and serves in the Wyoming State Legislature through 1988, and goes on to be elected to the Wyoming State Senate, where she serves until 1992, the first female African-American to achieve both offices.

Today, the statues of Esther Hobart Morris at the entrance of the Wyoming State Capitol in Cheyenne and the Hall of Columns in the U.S. Capitol in Washington, DC commemorate not only her, but all Wyoming's pioneer women and the motto that dominates Wyoming's State Seal: "Equal Rights."