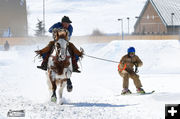 Ski Joring

John Hyde pulls Jeff Biffle. Photo by Arnold Brokling.

Pinedale Winter Carnival
Photos by Arnold Brokling
February 19, 2019
Main Street Pinedale hosted the annual Pinedale Winter Carnival February 15-18th. Events included an adult co-ed hockey tournament, cardboard classic race, ski joring, kids snowcross race, Yukon cornhole tournament, and a Sno-ball with special music by Timmy the Teeth.

Here are photos sent in by Arnie Brokling of the ski joring and the cardboard classic tournament.