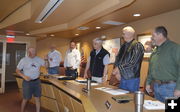 Coach Lehr

Sublette County Commissioners give a standing ovation to retiring Big Piney Coach Bill Lehr.


Accolades to Coach Bill Lehr
by Cat Urbigkit
June 6, 2018

When Big Piney's Bill Lehr stepped into the Sublette County Commission budget work session on Wednesday, June 6th, he expected to speak in support of the budget request for the Southwest Sublette County Pioneers senior center. But what he got was a standing ovation from the commission.

Commission Chairman Andy Nelson said, "We want to thank and recognize Coach Lehr for his many years of service to the county."

Coach Lehr has officially retired, after more than 50 years coaching youth, with more than three decades at Sublette County School District No. 9. He retires with 12 state championships (including six state football championships, five boys track titles, and the recent girls state track and field championship title).

Lehr was also recently recognized as the Wyoming Coaches Association Coach of the Year.