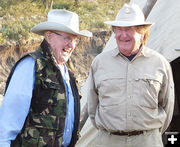 Monte and Courtney

Skinner Brothers Monte (L) and Courtney (R) Skinner enjoy meeting people and remembering fond times during the 60/80 reunion on the Upper Green Saturday night. Brother Ole was also present for the festivities.


Skinner Brothers 60/80 Anniversary Reunion
by Dawn Ballou, Pinedale Online!
August 14, 2016

Alumni who attended the Skinner Brothers Outdoors Wilderness Camps over the past 60 years gathered on the banks of the Green River at their former river rafting camp to celebrate and reconnect over the weekend of August 13 & 14th. Skinner Brothers Outdoor Wilderness Camps operated in Sublette County from the mid-1950s to 2004 to teach kids about the outdoors. It started as a boys camp, but later girls and co-ed programs were added. They taught outdoor skills, hunting, fishing, traps & snares, tracking, trailcraft, camping, navigation, edible wild plants, care of wild meat, backpacking methods, hiking, horsemanship, packing, river rafting, mountaineering, rock climbing, wilderness skills, survival, safety, emergency first aid, and appreciation of the outdoors and nature, and much more. The kids learned a work ethic and gained self-confidence.