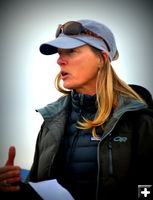 Renee Seidler

Renee Seidler, Associate Conservationist, North America Program, Wildlife Conservation Society was the Wildlife Overpass Interpretive Site leader. She thanked the 13 partner organizations and agencies, and everyone else who helped with this project. Photo by Terry Allen, Pinedale Online!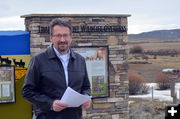 Keith Compton, WYDOT

Keith Compton, WYDOT District 3 Engineer, said since the overpasses and underpasses were installed "we've seen about an 81% reduction in wildife-vehicle collisions. We think it has been very successful." Photo by Terry Allen, Pinedale Online!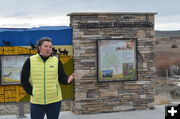 Rachel Grimes, Sublette Chamber of Commerce

Rachel Grimes, Executive Director of the Sublette County Chamber of Commerce said, "Our wildlife in Wyoming is truly one of our greatest assets." She said the Visitor Center in Pinedale gets about 30,000 visitors a year, many asking about the two wildlife overpasses. Photo by Terry Allen, Pinedale Online!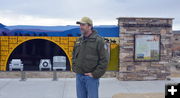 Mark Gocke

Mark Gocke, Wyoming Game & Fish Regional Information & Education Specialist, said, "This is a great interpretive site to explain why we did all this. It is really gratifying as a wildlife professional to see it happen. It takes a lot of collaboration to make something like this come together." Photo by Terry Allen, Pinedale Online!



Dean Clause, WYG&F

Dean Clause, Wyoming Game & Fish Wildlife Biologist said, "This is a great project. It will save hundreds and hundreds of animals down the road and save lives." Photo by Terry Allen, Pinedale Online!


Pronghorn Migration Interpretive Site completed in Wyoming
by Wildlife Conservation Society
Original post April 12, 2016 | Updated April 14, 2016

Scientists with the WCS (Wildlife Conservation Society) announced the completion of an interpretive site celebrating the hard work of numerous partners that resulted in an outstanding conservation success and improved safety for motorists and wildlife—including pronghorn during their biennial migration.

The media is invited to attend a ribbon-cutting ceremony taking place on April 13th at the site on US Highway 191, approximately four miles west of Pinedale, Wyoming. The Ribbon-cutting scheduled for Wednesday, April 13, 2016, 5:30 pm MDT, US Highway 191, approximately four miles west of Pinedale, Wyoming.

Features of the new site include a web camera which provides video of migrating animals crossing the Trapper's Point wildlife overpass. In addition, detailed displays that provide the public with an opportunity to learn about the importance of migration both locally and globally are available.

The overpass is one of two constructed in the region that enable safe passage of pronghorn. These include those animals that migrate the federally designated "Path of the Pronghorn." The project involved a unique collaboration of multiple agencies and organizations in its design and construction.

"The ribbon-cutting celebrates the completion of the interpretive site and will be a milestone event," said WCS Associate Conservation Scientist Renee Seidler, who led the effort to create and install the site. "There is a real sense of pride among the partners with regard to creating the crossing structures for the benefit of people and wildlife. The site helps share that story."

The interpretive site includes a large, artistic replica of the overpass with interpretive panels and accessible viewing binoculars— providing a live viewing opportunity from a location that will not disturb animals.

The camera, which shows both archived and live footage on the web, has already documented thousands of animals crossing the overpass, and provided people across the globe the ability to witness conservation in action.

The Trapper's Point wildlife overpass opened in 2012, marking a new era of reduced risk from wildlife-vehicle collisions in the area, and the culmination of years of cooperation among conservationists, government officials, land and transportation planners, and others.

Pete Hallsten, former WYDOT resident engineer in Pinedale who played an integral role in the mitigation project, applauded the success of the wildlife crossing structures project, "The two overpasses and six underpasses which were completed in 2012 have reduced wildlife-vehicle collisions significantly. Within one year, the incidence of wildlife mortalities along this road was reduced by 85%. This translates to a savings of millions of dollars in user costs over the life of the structures and, importantly, to vastly increased safety for travelers, as well as improving connectivity between winter and summer range for thousands of ungulates. I am very proud to have been a part of the project and am proud of our agency and our partners for supporting the project."

Sarah Dewey, wildlife biologist in Grand Teton National Park, points out that the mitigation effort along US Highway 191 boosts safe passage for pronghorn that summer in the park, "Most pronghorn that summer in Grand Teton National Park must cross US Highway 191 in order to reach the park. The overpasses, specifically designed with pronghorn ecology in mind, significantly reduce the risk for the animals that make this journey and help to sustain the park's healthy wildlife ecosystem."

On April 13th, 2016, at 5:30 pm, partners involved in the project, the public, and the media are invited to attend a ribbon-cutting ceremony to formally introduce the interpretive site and web camera. Speakers will talk briefly about the efforts, including the mitigation project, the web camera, and the interpretive site and the importance of these efforts to the ecosystem, the local community, and the larger region. Speakers include Mark Gocke (WGFD, Regional Information & Education Specialist), Rachel Grimes (Executive Director, Sublette County Chamber of Commerce), and Keith Compton (WYDOT District 3 Engineer).

Pronghorn are North America's fastest land animals. They numbered an estimated 35 million in the early 19th century. Today, about 700,000 remain and more than half of those live in Wyoming. The animals migrate to find food, mating opportunities, suitable habitat, and other resources they need to survive.

While WCS scientists study pronghorn throughout western Wyoming and eastern Idaho, those that follow the federally designated "Path of the Pronghorn" are of particular interest. They travel approximately 93 miles (150 km) between winter range in the Upper Green River Basin and summer grounds in Grand Teton National Park (GTNP). Their continued journeys to and from GTNP ensure that the park's ecosystem remains whole and that a 6,000 year-old migration remains a part of our national heritage. WCS worked with many partners, including GTNP and Bridger-Teton National Forest, to bring about the designation of the Path of the Pronghorn as the first federally designated migration corridor in the United States.

The installation of the web camera and interpretive site was made possible by the National Fish and Wildlife Foundation, WCS, Wyoming Game and Fish Department (WGFD), Jackson Hole Conservation Alliance, Water for Wildlife Foundation, National Parks Conservation Association, Wyoming Department of Transportation (WYDOT), Pinedale Travel and Tourism Commission, Upper Green River Alliance, Grand Teton National Park, Green River Valley Land Trust, Bureau of Land Management, and the Wyoming Office of Tourism.

Administration of the web camera was transferred on April 1st to Pinedale Online. Local and regional experts were used to create the interpretive site including Wind River Stone Scapes of Pinedale, Wyoming and Sea Reach of Sheridan, Oregon.

For additional information on this story, or to speak with the scientists involved, please contact Scott Smith at 718-220-3698.

Wildlife Conservation Society (WCS)
MISSION: WCS saves wildlife and wild places worldwide through science, conservation action, education, and inspiring people to value nature. VISION: WCS envisions a world where wildlife thrives in healthy lands and seas, valued by societies that embrace and benefit from the diversity and integrity of life on earth. To achieve our mission, WCS, based at the Bronx Zoo, harnesses the power of its Global Conservation Program in more than 60 nations and in all the world's oceans and its five wildlife parks in New York City, visited by 4 million people annually. WCS combines its expertise in the field, zoos, and aquarium to achieve its conservation mission. Visit: www.wcs.org. Follow: @thewcs.
__________________________________________

Update Thursday, April 14, 2016: Photos of the ribbon cutting by Terry Allen, Pinedale Online!