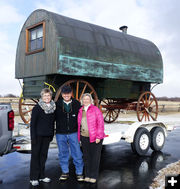 Sheepwagon

Left to Right: Laurie Hartwig-Director of the Sublette County Historical Society, Don Whitaker, Betsy Watry-Curator, Museum of the Mountain Man. Photos by Dawn Ballou, Pinedale Online!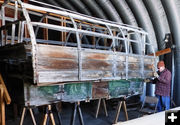 Old sheepwagon

Monte Skinner is taking on the ambitious winter project of rebuilding an old sheepwagon that came off the old Mrak property.


Two sheepwagons donated to Sublette County Historical Society
by Dawn Ballou, Pinedale Online!
December 8, 2015

The Sublette County Historical Society is extremely excited and pleased to announce they have recently received the donation of two sheepwagons to add to their collection of Sublette County artifacts. Sheepwagons were used in the early 1900s as mobile working sheepherder camps. They are typically about 7 to 8 feet wide and 12 to 16 feet long with an inside set up comparable to today's camper RVs with a bed, table, chairs, heating stove, and storage space for living items.

In early November, the Don Whitaker family donated their fully restored sheepwagon that came from the property they lived on west of Pinedale, which was historically the old Steele place. The wagon was in one of the sheds when the family bought the ranch. They shipped it to South Dakota to have it beautifully restored by Hansen Wheel & Wagon Shop, a professional wagon restoration company. The interior of this wagon has oak woodwork cabinetry, a working metal stove, and period-correct furnishings and living items. It is now on display in the Old Pinedale cabin area just south of the Museum of the Mountain Man.

In late June 2015, the Sublette County Historical Society received the donation of another sheepwagon from DeWitt Morris from the former Vern Mrak property in the Scab Creek area. This old sheepwagon, which is in a very deteriorated condition, has been taken on as a project to be completely reconstructed by Monte Skinner with help from Rex Poulson, Sam Drucker, Bob Harrower, and Monte's brother-Ole Skinner.

This restoration project is quite an undertaking since everything must be completely custom measured and re-fabricated to replace each piece of the deteriorating wagon. The restoration work began in October 2015 and Skinner expects it to take all winter to complete. Once done, this sheepwagon will used for hands-on living history education for the Sublette County Historical Society. The plan is to restore it so it can be used for hands-on history education opportunities in the community, allowing people to go inside it and having it be used for activities like being seen pulled by horses in local parades. Both sheepwagons will be on display in the Old Pinedale village next to the Museum of the Mountain Man.

Sublette County Historical Society Director, Laurie Hartwig said, "We are so grateful to the Whittaker, Mrak and Morris families for donating such a unique and integral part of Sublette County history to the Museum of the Mountain Man. It will be enjoyed for generations to come."

Photos by Dawn Ballou, Pinedale Online!