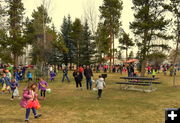 Go!

The egg hunters scatter throughout Boyd Skinner Park in Pinedale. Photos by Terry Allen.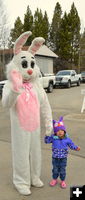 EB and me

Klaire Hecht, age 2, talks with the Easter Bunny.


Lions Club 2015 Easter Egg Hunt
by Terry Allen
April 10, 2015

It is almost 10:00 AM and Boyd Skinner Park shimmers like a sky full of stars from the 300 pounds of brightly wrapped Easter candy scattered throughout the park. Mindi Crabb watches the big hand on her wristwatch sweep toward the twelve. She glances upward and watches the sun slide toward an open spot in the clouds. She tests her megaphone and its squawk makes mothers tighten their grip on their littlest ones. The older kids, eyes fixed on the prize, are already pressed up against the starting tapes waiting for the countdown.

"Go!" Mindiís amplified voice echoes through the park; and instantly, hundreds of kids burst through the tape like startled rabbits, cats, gazelles and chimps, running full speed into the forest, across the lawns and around the pond. Back and forth they run, hunched over and dragging their knuckles on the ground like an elephantís trunk, scooping up hordes of candy and depositing it into their Easter baskets, and then extending their trunks again to scoop up more.

In 15 minutes it is over; and children are comparing candy baskets and displaying them proudly to their parents. Slater Bell, age 4, showed off his over-flowing basket and explained the secret of his success. "I ran really hard and I drank a lot of water," said Slater. Scott Winer looked approving at his daughter Stevie Joís basket and explained her success. "We had a game plan," said Scott. "Yes," piped in Stevie, "We got where it wasnít crowded."

The Lions have sponsored this event for at least the last 37 years. Randy Belton has been a volunteer at the event for almost half that time. "It was pretty easy this year," said Randy. "We used to have a hard time hiding the eggs and candy in the snow in a way so the kids could find them, but with no snow, no problem."

According to Jim Allen, the Lions spent about $600 on candy for the event.

Easter Egg Hunt chairperson, Janet Bellis has been a Lion for nine years and loves the event. "My first year I was the Easter Bunny," said Janet. "I just love how all the little kids get dressed up in their outfits. The sun came out just in time this year."

Owen Rivers, with a sort of anguished look on his face, displayed his empty basket, except for a lone candy wrapper (see photo). Owenís Mother, Lizzy explained the look. "We have to pace him. I put the rest of it away for now."

The Easter Bunny sat on a park bench posing with lapfuls of little ones as Moms and Dads clicked photos. John LaBuda has been the man behind the fur for the last eight or nine years and explained a few secrets of Easter Bunny success. "I have to travel with a body guard, because the dogs hate me," John said. "If a dog bites my leg, then Iíd bend over to take a swipe at the dog and my head would fall off and that would make the kids cry. I also have to be chauffeured to the event because rabbits canít drive well with their big ears sticking through a sunroof." Living inside a rabbit costume presents other challenges and an opportunity for a bit of fun. "Rabbit eyes are real big and I donít want to blow the magic for the kids by having them look inside and seeing a person in there, so I wear a black mask and sunglasses," said John. "It can get pretty hot and humid in there and my sunglasses can get fogged up, so my body guard often has to lead me around so I donít fall. I never talk, so many of my friends donít even know itís me. Itís pretty fun to give them a hug or a pat on the butt and have them suddenly stop and just stand there."

A Mother places her little one on the Easter Bunnyís lap and the little girl says "hi" and gives him a hug, and the Easter Bunny smilesÖon the inside.

Photos and story by Terry Allen
________________________________________

The annual Pinedale Lions Club Easter Egg Hunt was held on Saturday, April 4th.