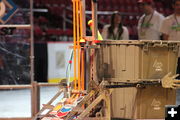 Closeup

Close-up of the Handyman carrying 2 totes. Photo by Breena Jones.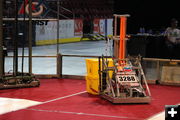 Totes

Getting ready to pick up two totes. Photo by Breena Jones.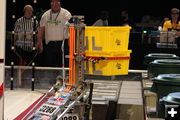 Totes

Preparing to score two totes. Photo by Breena Jones.


From Rust to Robots: Big Piney Puncher Robotics
by Abby Hughes
April 16, 2015

FIRST Robotics: what is it? Well, FIRST literally stands for "For Inspiration and Recognition of Science and Technology," but as all of the Big Piney Puncher Robotics students know, FIRST is so much more than that.

Team 3288, or Puncher Robotics, has been competing in various regional FIRST robotics competitions for nearly ten years now. As the title of this article suggests, our theme this year is "From Rust to Robots." This does not only refer to our robots, but to our students as well. Any team member would agree – Team 3288 builds more than just robots; we build competent, well-prepared individuals.

Science, technology, engineering and math are very predominant fields in the world today, especially in Sublette County. Our world is constantly advancing technologically, and our future generations must be able to keep up. Because of this, FIRST robotics uses fun, albeit challenging competitions to teach high school students the importance of STEM related fields. FIRST helps prepare leaders of future generations to face any STEM related challenges.

Every year, a new game is created. This year, the participants were required to build a robot that could stack recycling bins on top of rectangular totes that would then be placed in a central scoring area. Team 3288 has participated in two regional competitions this year: the Salt Lake City regional and the Denver regional. In Denver, the team placed 7th overall. The team will also be participating in the St. Louis Championship on April 22nd through April 25th. The team is very grateful to have such an opportunity, and all team members will be working hard to raise funds for the trip. For example, students will be selling chocolate bars and Puncher Robotics t-shirts, and there will be a "Duct-Tape Your Teacher to the Wall" fundraiser (Students will be able to pay to have Mr. Nelson and Mr. Crego duct-taped to a wall). We are also very appreciative of our wonderful sponsors and the generous donations they have provided. These sponsors include Shell, ExxonMobil, EOG Resources, Jonah Energy, Linn Energy and Chevron. Without these major sponsors, our organization could not exist.

FIRST robotics provides so many wonderful opportunities to the students of Big Piney High School. Everyone can learn something, whether it be how to drive a robot or how to improve one's public speaking skills. But most importantly, the students of Team 3288 have fun as they learn. In the words of our mentor Steve Nelson, "The biggest thing is, the kids are going to have fun. There's nothing better than doing this. I mean, even if everything falls over, we're going to have fun."

It can be agreed that this is the most rewarding fun we have ever had. From rust to robots, Team 3288 has grown into a well-functioning machine. Go Punchers!