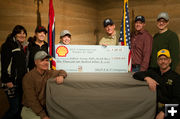 Shell donates to Public Health

Shell E & P donated $1200 to Sublette County Public Health. The check was presented during the Musher's Banquet at the Sublette County Library on Monday, January 28th. Photo by Chris Havener, IPSSSDR.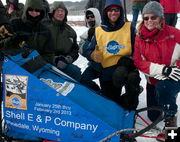 Lead Team

Aaron Peck from Grand Prairie, Alberta, Canada, wore the yellow vest in the Pinedale Stage as leader from the previous day's race in Alpine. Shell E&P was the banner sponsor for his sled in the Pinedale Stage race. Photo by Chris Havener, IPSSSDR.


Pinedale Stage Stop sponsors donate back to the community
by Serese Kudar, Pinedale Stage Stop Race Committee Chair, IPSSSDR
January 30, 2013

PINEDALE, WY — It is sponsors like Shell E & P Company and our Banner Sponsors whose contribution toward our non-profit organization enhance the quality of life in Pinedale and its surrounding communities in which our sponsors operate.

The International Pedigree Stage Stop Sled Dog Race (IPSSSDR) has worldwide, regional, and local presence as the largest professional sled dog race in the lower 48 states and is now recognized as one of the most sought after professional dog races.

We would like to take a moment and remind everyone why Pinedale loves this race so much…

Heritage and Lifestyle - It is a race that fosters the local history of the use of dogs and dogs sleds in our state and educates our community about the wonderful sport of mushing. The race annually donates to Sublette County Library Foundation to support the services and materials offered at our amazing library.

Youth – The Pinedale Cora Stage Stop continues to build relationships with SCSC1 to support creative curriculum tied to the areas of the sport of mushing, volunteerism, mathematics, and the arts. We have excellent support from teachers like Chris Calebro, Chisty Anspach, Principal Jeryl, Missy Davis, and more. Last week, we welcomed professional musher Aaron Peck with Team Elevation Dogs from Alberta, Canada for a speaking engagement with Pinedale Middle School. We can't tell you how awesome it is for the kids put a face to the race! We congratulate Junior Musher Essay Contest Winners Brent Faler, Megan Anspach, and Vincent Faler who have the special opportunity to race as mushers themselves in Evanston, Wyoming representing the Town of Pinedale and our sponsors. And last, our hardworking Future Farmers of American-Pinedale High School Chapter, thanks for helping us pull off a very welcoming Musher's Dinner and providing helping hands at the Upper Green Start and Finish of the race.

Health and Welfare – Shell's sponsorship contributes $1200.00 back to Sublette County Public Health's annual October Free Flu Clinic. The donation helps in purchasing the syringes, alcohol swabs, and band aids…Dereth and her nurses do an amazing job at keeping us healthy! In addition, our Stage Stop donates to the Sexual Assault Family Violence Task Force, another extremely valuable organization that provides domestic violence shelters and services to our families… And what about the dogs, well, our race donates a year of dog food to the Town of Pinedale Animal Control as a way of thanking Julie Early in keeping stray dogs happy and a donation to Happy Endings Animal Rescue, thank you HEAR for your ongoing promotion of pet adoption services.

Conservation – The sport of mushing strongly supports good environmental stewardship. This Wyoming race travels through amazing habitat for all to see, all the while as it shows how Wyoming protects its natural resources as we utilize its existing resources to secure energy for decades to come. Our race emphasizes the beauty of our state and promotes our second leading industry, tourism and want to thank the Town of Pinedale for your support in keeping this event coming to Pinedale.

So again, Pinedale, your support has been measurable in hundreds and thank you to those that came out to support the race and our mission. Keep posted on race results through February 9th, 2013, at wyomingstagestop.org. Dogs rule!