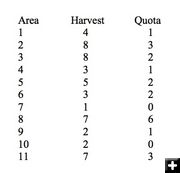 Harvest Chart

Wolf harvest by hunt area, quota, and harvest number.


Wyoming wolf harvest rises to 21
by Cat Urbigkit, Pinedale Online!
October 14, 2012

As of Sunday, October 14, 2012 at 4 p.m., hunters reported harvesting 21 wolves in the state's wolf hunting season. This harvest is in the trophy hunt areas of northwestern Wyoming. Seven wolves have been harvested in the four Absaroka hunt areas; five in the Wind River hunt areas; and nine in the Jackson hunt areas.

For more information, click on the links.