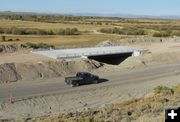 Wildlife Underpass

Wildlife underpass near Trapper's Point on US 191, between Pinedale and Daniel Junction.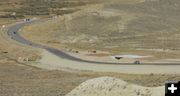 Wildlife pass through

Wyoming Department of Transportation is installing a series of wildlife underpasses and overpasses on US 191 between Pinedale and Bondurant.



Editor's Note: Pinedale Online has added more photos to this story to show additional angles of the construction for this wildlife improvement project. Costs for the project are: Two Overpasses: $5 million; Six Underpasses: $3.6 million; One Fence: $1 million. Total: $9.6 million. Photos below were taken October 3, 2011 by Pinedale Online!


Scroll down for more photos




Wildlife Connectivity road projects continue
by Wyoming Department of Transportation
October 19, 2011

Work on the WYDOT's "wildlife connectivity" project on US 189/US 191 in Sublette County, continues to progress, and Pete Hallsten, the agency's resident engineer in charge of the project, reports that six new underpasses for wildlife should be ready for use by early November.

Meanwhile, work is also ongoing to construct special overpasses for wildlife at two other sites and to install special wildlife fencing along most of the 12-mile-long project corridor.

Hallsten, who is based in Pinedale, advises that as winter approaches, the pace of work will slow -- but not stop -- and travelers should expect continued traffic restrictions even after the snow flies.

He adds it's also important to remember that because work will continue well into 2012 (as was planned), there will still be plenty of opportunity for game animals to be on or along the highway, and drivers should remain vigilant as they pass through the project area.

Three of the underpasses are located within a 2.5-mile stretch of US 191 in the vicinity of Trappers Point between Pinedale and Daniel Jct. The other three underpasses are grouped within a 1.25 mile section US 189-191 north of Daniel Jct.

One overpass will be located close to Trappers Point, near the junction with WYO 352 (Cora Road). The other overpass will be located about two miles north of Daniel Jct. at what's referred to locally as Boroff Hill.

The special fencing is being installed or upgraded along the length of the project between reference markers 103 and 115. However, because the overpasses are yet to be completed, openings are being intentionally left in the fence for the short term, mainly to facilitate antelope movements near Daniel, Trappers Point and Boroff Hill.

During the upcoming weeks, speed limits at the six new underpass sites will still be reduced to 30 mph, in the interest of safety for both travelers and construction workers who are finishing guardrail installation and other tasks.

Hallsten said that the focus of work will be shifting to the Boroff Hill overpass, weather permitting, with the goal of having the structure and associated fencing completed prior to when the pace of wildlife migration picks up next spring. Crews may also be present at the Trappers Point overpass, again depending on weather.

Both overpasses will be constructed as large arch culverts, composed of several dozen sections of quarter-round, precast concrete sections, placed side-by-side on each side of the road. Substantial amounts of fill material will be placed over the top and down the sides to complete the process.

Placement of the concrete arch sections is scheduled to begin at Boroff Hill during the first week of November. Due to the nature of the task, traffic will be stopped periodically, with delays as long as 20 minutes during daylight hours. Hallsten estimates crews will need seven to 10 days of dry weather to place the arch sections. During that time, travelers should use an alternate route if feasible.

The wildlife overpasses are a new concept – at least for Wyoming. Experience shows that while deer, elk and even moose will readily learn to use an underpass, antelope are extremely reluctant to do so. The overpasses are intended to solve the problem of getting antelope safely across the roadway. Their 150-foot width is sufficient to place earthen berms along both sides to block the view of the highway underneath, and their surfaces will be landscaped with native grasses and shrubs to help blend in with the surroundings.

Improved safety for motorists and animals is not the only goal of the project. The Trappers Point area is well documented as a major wildlife migration route, but increasing traffic on US 189/US 191, along with ongoing development in the region, have served to disrupt migration. The project will serve to reverse this trend and help restore diversity, health, and genetic vitality of the various big game species.




Related Links