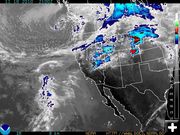 NOAA Radar

Radar for Thursday, November 18, 2010. National Oceanic and Atmospheric Administration (NOAA)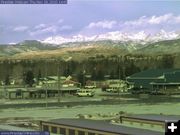 Pinedale cam

View from Pinedale webcam on Thursday, November 18, 2010.

Winter Storm Warning
5 to 25 inches of snow possible over the weekend
November 18, 2010
The National Weather Service has issued a Winter Storm Watch for late Friday night through Sunday afternoon for Pinedale, Big Piney, LaBarge, Farson, Jackson, Wyoming Range, Gros Ventre mountains, and Wind River Range.

Snow is expected to move into lower elevations of Sublette County by late Friday night. Snow will increase Saturday and Saturday night and continue through Sunday.

Expected snow accumulations:
5-10 inches around Big Piney
10-15 inches around Pinedale
10-25 inches in nearby mountains

Wind gusts up to 30 mph possible over weekend. Snow-packed and slick roads, blowing and drifting snow, and slick roads will reduce visibility and create hazardous travel conditions.

Prepare for winter driving and plan extra time to reach your destination.

Related Links