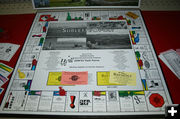 SubletteOpoly

Designed to look similar to the board game 'Monopoly', 'SubletteOpoly' is now available with a Sublette County theme. The game is a fundraiser for the Sublette County Sexual Assault Family Violence Task Force.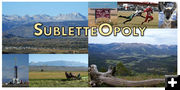 Game Box cover

The box cover features scenes from around Sublette County.


'SubletteOpoly' is here!
Fundraiser for SAFV
by Dawn Ballou, Pinedale Online!
Original post November 30, 2010 | Updated December 6, 2010

(Editor's Note: This story was updated to add in locations where this game can be purchases.)
_______________________________________

The Sublette County SAFV Task Force (Sexual Assault Family Violence) has a unique gift idea, just in time for the holiday season. SAFV has worked with a company to create a Monopoly-type board game that features local Sublette County business and organizations as the "properties" on the game board. This game is called "SubletteOpoly", mirroring the famous Monopoly board real estate game that has been around since 1935.

On Sublette County's version, QEP, Shell, EOG Resources, and Sublette Communications hold the railroad spots. Allen Agency and Ultra Petroleum hold the utility slots. The Bank of Sublette County is sponsoring the SubletteOpoly money. Many businesses across Sublette County are participating and have purchased advertising to appear on the individual property places and have cards in their names. In addition, many individuals contributed to support the effort. The game box has photographs taken from all around Sublette County.

Only 750 games were made, and they are available now. "SubletteOpoly" sells for $25. A complete list of stores selling the game was not available as of the time of this article, however games are available at the Office Outlet stores in Pinedale and Big Piney.

Update: The games are available at the following locations.

PINEDALE
SAFV Task Force
Bank of Sublette County
Barn Door
Cowboy Shop (will mail to out-of-state for phone orders, 1-800-567-6336, 307-367-4300, Shipping $6.50 in Wyoming, $11.50 out-of-state)
1st Bank
Mountain Man Museum (online orders only from the Trading Post page, www.museumofthemountainman.com, Shipping $6.50 in Wyoming, $11.50 out of state)
Obo's
Office Outlet (will mail to out-of-state for phone orders, 307-367-6763, Shipping $6.50 in Wyoming, $11.50 out of state)

BIG PINEY/ MARBLETON
SAFV Task Force Big Piney office/Prevention Coalition
Green River Museum
Just Imagine
Obo's
Office Outlet

100% of the sales benefits individuals who are affected by domestic violence, sexual assault and stalking.

For more information, contact the SAFV Task Force at 307-367-6305 or 307-276-3975.