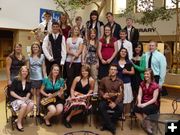 Honor Band and Choir

Pinedale High School students participated and performed at the 2010 Southwest Wyoming High School Honor Band and Choir in Lyman.


Southwest Wyoming High School Honor Band and Choir
Pinedale High School musicians participate and perform
by Sublette County School District #1
November 28, 2010

On Monday and Tuesday, November 22nd and 23rd, 21 Pinedale high school musicians participated in the annual Southwest Wyoming District High School Honor Band and Honor Choir. These students practiced with other musicians from the area schools for two days at Lyman and performed a concert on Tuesday afternoon in the Lyman High School Auditorium. They were selected from nominations sent in by the directors from the nine schools participating in this clinic/concert.

The 98-member all-district honor band was directed by Tyler Surrell who is an instrumental music teacher in Lander. He was conducting his first-ever Honor group and did a great job. The 82-voice all-district honor choir director was John Miller who is the choir director at Powell Middle School and High School. John was a music director at Cokeville before moving to Powell 18 years ago.

Due to blizzard conditions west of Lyman, the Evanston school music department couldn't participate this year. Upon arrival to the second day of rehearsals, Jackson, Star Valley and Cokeville also were forced to pullout. This left just Pinedale, Lyman, Mt. View, Kemmerer and Big Piney students left participating. With only half remaining in both groups, these musicians rallied, worked hard and still put on a tremendous concert for the public in an earlier-than-expected afternoon concert.

Pinedale members in the Honor Choir were Haley Gray, Ashlee Anderson, Sierra Cunningham, Hattie McKay and Brielle Buchanan – sopranos; Ashley Calderon and Kristy Brandewie– altos; and Gordie Banks and Shane Adams – tenors.

Pinedale band members selected to the Honor Band were Maggie Knapp and Sami McCarty – flute, Bekah Knapp– clarinet, Andi Noble– alto saxophone, Niko Kolis– tenor sax, Elisa Lowham – oboe, Josh Abel – trombone, Erik Kleven – French horn, Jared Attanasio - percussion and Gus Holz, Caitlin Tan and Ali Wadsworth - trumpet.

These students are under the direction of Gena Anderson – Pinedale High School choir director and R. Craig Sheppard – Pinedale High School band director.

Schools participating were Lyman, Mt. View, Evanston, Cokeville, Jackson, Kemmerer, Star Valley, Big Piney and Pinedale.

These talented Pinedale musicians will be performing with their local school groups on Monday, December 13th (choral) and Tuesday, December 14th (band). Both concerts will be at 7PM in the Pinedale Auditorium and there will be no admission charged. Come out and join in their holiday concerts.