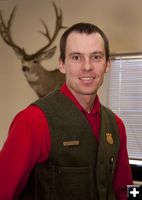 John Lund

Photo by Mark Gocke, Public Information Specialist, Wyoming Game & Fish.


Lund new Pinedale Wildlife Supervisor
by Wyoming Game & Fish
November 3, 2010

PINEDALE – John Lund, formerly the West Casper Game Warden for the Wyoming Game and Fish Department has been chosen to be the new Pinedale Region Wildlife Supervisor. Lund will be replacing Bernie Holz who recently retired from the position.

"John has shown great dedication and leadership in every position he's held for the Game and Fish Department," said Jay Lawson, Chief of the Wildlife Division for the Game and Fish Department. "We're pleased to have him take over the Pinedale position and confident he will serve the region well."

Lund, a Loveland Colorado native, has held a number of positions and accomplished a great deal in his tenure for the Wyoming Game and Fish Department. Lund began his Game and Fish career on the Reservoir Crew in Casper in the spring of 1999. This position gave him the opportunity to work in several different regions as an enforcement aide and wildlife damage technician. This variety of experiences exposed him to many of Wyoming's complex wildlife issues as well as broadened his experience as a wildlife officer.

In April of 2002 he was promoted to the Sheridan Game Warden Trainee position. Lund also served as a warden trainee in Gillette before transferring to Cheyenne. While in Cheyenne, he assumed many of the duties assigned to the Wildlife Law Enforcement Coordinator position. He was responsible for assisting with the development and maintenance of the statewide Case Management System and the review and issuance of all scientific and commercial wildlife permits.

In July 2004 Lund was promoted to District Game Warden in the North Gillette District where his workload grew with the booming economy and associated influx of workers and increasing population. During his tenure as the North Gillette Game Warden, Lund made several high profile poaching cases. There he cultivated positive working relationships with the Campbell County attorney and local law enforcement agencies. These relationships contributed to his successful prosecution of several wildlife crimes.

In April 2008, Lund transferred to the West Casper Game Warden District where he has served until his recent promotion to the Pinedale supervisory position. Also in 2008 John was the recipient of the prestigious Shikar- Safari Club International Wildlife Officer of the Year for Wyoming. Lund was recognized for his exceptional teamwork and contributions to critical wildlife law enforcement work.

As a warden, Lund has readily spent a significant amount of his time on projects outside his normal duties. John voluntarily attended watercraft accident investigation training, assisting other wardens with watercraft accidents. He also assisted with the Elk Brucellosis Test and Removal pilot project conducted near Pinedale for the past five years. Lund also teaches hunter education classes and volunteers his time with several nonprofit wildlife conservation groups.

"I'm excited for the opportunity to serve in the Pinedale Region," said Lund. "There is a great staff already in place here and I will rely heavily on their expertise. There are certainly a number of wildlife management challenges in the region, but I like to look at them as great opportunities to make a difference, too."

Lund is joined in Pinedale by his wife, Stephanie and their two boys, five year old Garrett and two year old Wyatt. John enjoys spending time outdoors with his family and is also a self-proclaimed "flyfishing addict". When not learning the new country on foot, John may be checking it out from the air. Lund is a licensed pilot and enjoys flying when he can.