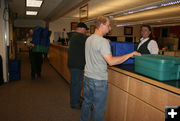 Bringing in the ballots

A Sheriff's deputy brings in Pinedale ballot boxes while Marc Porter (L) and John Archambault inspect each box. Sublette County Clerk Mary Lankford gets ready to accept the ballots.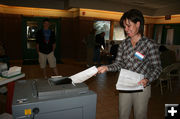 Absentee Ballots

Windy Noble feeds absentee ballots into the voting machine at the Pinedale polling location.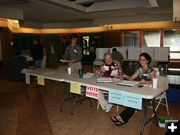 Pinedale 1-1 Precinct

L to R: Windy Noble, Mayleen Boyce, Jolee Springman help voters at the Pinedale 1-1 precinct on Tuesday.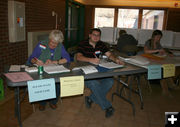 Pinedale West

L to R: Gina Feltner, Dustin Oakley and Mariah Strike help voters in the Pinedale West precinct.


Election Results – Nov. 2, 2010 General Election
by Pinedale Online!
November 2, 2010 | Updated November 4 2010

Editor's Note: Dave Lankford was determined to be the winner of the Sheriff's election with 1310 valid write-in votes. Click on this link for the full story of the Sheriff's election.
______________________________________

UNOFFICIAL SUBLETTE COUNTY RESULTS (PDF)
STATEWIDE RESULTS FOR WYOMING

9 Precincts counted
Total Registered Voters: 4,828
Total Ballots Cast: 3,514
Total Voter turnout: 72.78%

11/2/10, 6:37PM Update: Possible delay in some Wyoming election results, says WY Secretary of State Max Maxfield
CHEYENNE – (Tuesday, November 2, 2010): Wyoming Secretary of State Max Maxfield said Tuesday that election results from some counties may come in later than usual Tuesday night because of issues with vote-tabulating machines. Two counties, Weston and Fremont, have reported difficulties; no other counties have reported any issues. The Secretary of State's office issued a press release saying the tabulators were turned off and re-booted, and tabulation began again. All ballots will likely be tabulated and possibly re-tabulated just to assure an accurate count. Initial reports were that ballots were sticking when being fed into the tabulators. "It appears to be a mechanical problem with the machines not an electronic tabulation problem; but I will provide more information to the public as it becomes available to me," Maxfield said.

Contested Local Races

STATE REPRESENTATIVE
Bill Winney, Republican: 1,316 (47.99%)
Jim Roscoe, Democrat: 1,332 (48.58%)
Note: Jim Roscoe wins this race based on combined vote results of Sublette, Teton and Lincoln counties. Roscoe 2,545, Winney 2,068)

SUBLETTE COUNTY COMMISSIONER (2)
Joel Bousman, Republican: 2,314 (32.93%)
Andy Nelson, Republican: 2,585 (36.78%)
Courtney Skinner, Democrat: 952 (13.55%)

SUBLETTE COUNTY SHERIFF
John Wells, Republican: 1,008 (28.69%)
Mike Edison, Independent: 304 (8.65%)
Stephen Haskell, Independent: 621 (17.67%)
Write-In: 1,381 (39.30%)
Dave Lankford, Write-In: 1,310
Editor's Note: Dave Lankford was determined the winner of the Sheriff's race by the Canvassing Board. Click on this link for the full story of the Sheriff's election.

SUBLETTE COUNTY SCHOOL DISTRICT #1 – TRUSTEES AT LARGE (2)
Meghann Durbrow: 534 (10.14%)
Kelly Eaton: 711 (13.50%)
Bob McCarty: 564 (10.71%)
Mike McFarland: 754 (14.31%)
Doris Woodbury: 816 (15.49%)
Jamison Ziegler: 786 (14.92%)

SUBLETTE COUNTY SCHOOL DISTRICT #1 – PINEDALE 1
Ana Cuprill: 987 (37.47%)
Sandra Sikorski: 1,151 (43.70%)

SUBLETTE COUNTY SCHOOL DISTRICT #1 – RURAL EAST
Shaun Buchanan: 844 (32.04%)
Robin Schamber: 1,170 (44.42%)

LABARGE (LINCOLN COUNTY) RESULTS: http://www.lcwy.org/results_labarge1-8.php

SUBLETTE COUNTY SCHOOL DISTRICT #9 –TRUSTEE AT LARGE (2)
Bartie Bray: 270 (15.34%), LaBarge votes 73 (12.17%), Total: 343
John Fear: 503 (28.58%), LaBarge votes 109 (18.17%), Total: 612
James Gray: 227 (12.90%), LaBarge votes 46 (7.67%), Total: 273
Glade Jones: 361 (20.51%), LaBarge votes 189 (31.50%), Total: 550
Ray Pape: 203 (11.53%), LaBarge votes 44 (7.33%), Total: 247
Winner determined by combined Big Piney/Marbleton/Sublette County and LaBarge/Lincoln County votes.

SUBLETTE COUNTY SCHOOL DISTRICT #9 –TRUSTEE
Mack Rawhouser: 587 (66.70%), LaBarge votes 155 (51.67%), Total: 742
Sherri Redden: 232 (26.36%), LaBarge votes 107 (35.67%), Total: 339
Winner determined by combined Big Piney/Marbleton/Sublette County and LaBarge/Lincoln County votes.

UPPER GREEN RIVER CEMETERY DISTRICT (3)
Miriam Carlson: 1,038 (13.14%)
Wilma Shriver: 1,137 (14.39%)
Holly Thayne: 1,311 (16.59%)
Barbara Wise: 1,562 (19.77%)

BIG PINEY CEMETERY DISTRICT – 2 YEAR TERM (1)
Machelle Merrell: 70 (7.95%)
Dick Tanner: 650 (73.86%)
Zenda Thomas: 80 (9.09%)

NATURAL RESOURCES DISTRICT SUPERVISOR
David Vlcek: 915 (26.04%)
Darrell Walker: 1,875 (53.36%)




Related Links