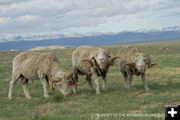 Ram Royalty

This yearís grand prize photograph, "Ram Royalty," was taken by Cat Urbigkit of Pinedale.


Winners of annual Ag Photo Contest announced
Cat Urbigkit wins grand prize
by Wyoming Business Council
October 1, 2010

The Wyoming Business Councilís Agribusiness Division has named the winners of its 3rd Annual Ag Photo Contest.

Winners received $300 for grand prize, $150 for first place, and $75 for second place. This year, there was a youth category with a $50 first place prize. All award photos will be featured in the 2011 AgriCulture Calendar later this year.

This yearís grand prize photograph, "Ram Royalty," was taken by Cat Urbigkit of Pinedale, Wyo. First place went to Heather DePra of Cheyenne, Wyo., for the picture "Hauling Hay", and second place went to Sandra Grace of Casper, Wyo., for the photo "Appreciating the Field".

In the youth category, Hollie Rae True took first place with the photo, "Sunday Morning Ride".

The Agribusiness Division received over 200 photos submitted by 36 photographers both professional and amateur.

"We are thrilled with the quality and number of photographs submitted this year," said Wyoming Business Council Agribusiness Director Cindy Garretson-Weibel. "We are looking forward to sharing some of our best photos with the people of Wyoming in our 2011 AgriCulture Calendar."

Submitted photos will also be used in other marketing pieces and brochures used by the Agribusiness Division. To view the winning photos, please visit the Wyoming Business Council website at http://www.wyomingbusiness.org/ag/agribusiness.aspx or the Business Council Facebook page at http://www.facebook.com/WyoBizCouncil.

To request a free copy of the 2011 calendar contact Terri Barr at 307-777-2807 or terri.barr@wybusiness.org.

The mission of the Business Council is to facilitate the economic growth of Wyoming. The Business Council, a state government agency, concentrates its efforts on providing assistance for existing Wyoming companies and start-ups, helping communities meet their development and diversification needs, and recruiting new firms and industries targeted to complement the stateís assets. For more information, please visit www.wyomingbusiness.org.