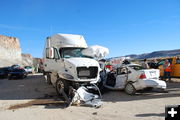 Collision

Photo courtesy Wyoming Highway Patrol.


Aftermath of rockslide closes westbound Interstate 80
Near Green River
by Wyoming Highway Patrol
October 14, 2010

Troopers working two separate injury crashes that sent four people to the hospital after a rockslide on Interstate 80 say drivers driving at speeds too fast for existing conditions were contributing factors in the crashes. The traffic crashes closed the westbound lanes of the Interstate for approximately four hours.

Wednesday, October 13th just after 3:00 p.m. approximately 2 miles west of Green River, a portion of a rock formation next to the westbound lanes of Interstate 80 known locally as "The Palisades" sloughed off, causing a minor rockslide. None of the rockslide came to rest on the Interstate, however immediately after the rockslide there was near zero visibility on the roadway caused by the dust from the slide.

Troopers had just arrived on scene and were assessing the situation to make sure the rockslide had not gone across the Interstate when a westbound Ford Focus being driven by 19 year-old Mandalina Quigley from Green River drove into the dust cloud and struck the rear of a tractor trailer hauling an oversized load. After the impact Quigley's vehicle spun and then came to rest across the middle of the westbound passing lane with the driver's door towards oncoming traffic.

A westbound Ford van pulling a trailer loaded with an airplane body driven by 82 year-old James Courson from San Gabriel, California, was able to see Quigley's vehicle across the passing lane and was in the process of slowing his vehicle when a tractor trailer van combination driven by 60-year-old Alvin Ferguson from Salt Lake City, Utah, then rear ended the Courson's trailer and van. The impact flipped the plane body off the trailer and over the van. A piece of the airplanes landing gear lodged in the driver's side front window of Ferguson's truck tractor. Ferguson's tractor trailer then collided broadside into Quigley's vehicle in the driver's side door crushing the vehicle around Quigley and her father, Randy Quigley, who was a passenger. The impact also ripped the engine out of the Ford Focus.

Everyone involved was wearing their seatbelts and Troopers on scene state that definitely saved lives. Mandalina and Randy Quigley were transported via ground ambulance to Memorial Hospital of Sweetwater County in Rock Springs as was Ferguson and Courson's wife, Helen. All were treated and released.

Due to the total road blockage in the westbound lanes caused by the crashes all westbound traffic was re-routed off the Interstate and through the town of Green River. The Interstate re-opened around 7:00 p.m.

Quigley and Ferguson have been cited for speed too fast for existing conditions.

Photos courtesy Wyoming Highway Patrol.