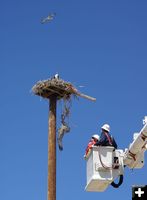 Tangled Osprey

Rescuers arrived in the form of Bernie Holz with the Wyoming Game and Fish Department and Mike Wright with Rocky Mountain Power.


Osprey recovering
by Cat Urbigkit, Pinedale Online!
August 12, 2010

The juvenile osprey that had become helplessly entangled in twine and was hanging upside down from its nesting platform on Tuesday appears to be recovering. The osprey ordeal occurred on a nesting platform located along Highway 351 earlier this week, and Wyoming Game and Fish Department regional wildlife supervisor Bernie Holz teamed up with Mike Wright of Rocky Mountain Power to rescue the raptor.

On Wednesday and Thursday, the juvenile bird was once again seen sitting upright in the nest next to its sibling and mother.