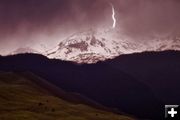 Lightning Strike

Local photographer Dave Bell captured this lightning strike over the Wind River Mountains on June 15, 2010. "Tuesday Night--Great lightning storm. Caught this strike at 10:30PM with a 30-second time exposure. All the light in the picture is from lightning flash, and of course the mountain top no longer has snow on it. Peak in front of the strike is Sky Pilot." Click here for more of Dave's scenic photos

Lightning Safety Awareness Week June 20-26
June 17, 2010
June 20-26, marks National Lightning Safety Awareness week. The National Weather Service has
placed pertinent information and links at the following website:
http://www.crh.noaa.gov/news/display_cmsstory.php?wfo=riw&storyid=53556&source=0

Already this year nine people were struck and injured by lightning at Old Faithful in Yellowstone National Park. Coupled with 11 injuries at Old Faithful in 2005, there have been 20 lightning-related injuries at the famed landmark since 2005. Lightning is a very real threat here in Wyoming. Education and safety precautions can help mitigate injury and death. Helpful phrases to remember are "When thunder roars, go indoors!" and "When thunder roars, head to shore!"

For more information, contact Chris Jones, National Weather Service, Riverton, Wyoming, (307) 857-3898 ext. 726.