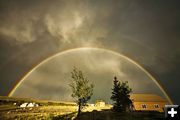 Double Rainbow

Photo by Dave Bell. Shot with Canon 5d Classic, 17-40mm F4.0 USM L Lens at 17mm/f4.0 with the shutter set a 1/2000th; ISO 200.


June 30 Thunderstorm
by Pinedale Online!
June 30, 2010

An evening thunderstorm on Wednesday, June 30th, brought rain, lightning and thunder. When it blew over, the late-evening sun on the storm clouds glowed with an incredible light. Several people in the community sent in photos of the amazing display.

Many thanks to Sammie Moore, Jennifer Frazier and Dave Bell for sharing their photos of the storm clouds!