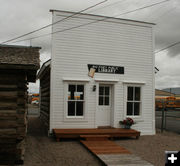 Big Piney Library

The museum will have a dedication ceremony for the original Big Piney Library building on June 5th.


Green River Valley Museum opens for the season
by Dawn Ballou, Pinedale Online!
June 1, 2010

The Green River Valley Museum opened on Tuesday, June 1st for their summer season. The museum is located in Big Piney and was created to preserve and perpetuate the history and culture of the Green River Valley.

New exhibits this season include a tie hack display and the relocation of the old Big Piney Library building onto the museum complex. The museum also has displays on early settlement, local ranching, early oil and gas exploration, early area coal mining, military history and local war veterans, and more.

The Green River Valley Museum will dedicate the original Big Piney Library building on Saturday, June 5th. There will be a special Humanities program "My Horse, My Gun, My Libraries" by Lynne Swanson at 2:00pm. Refreshments will be served and there will be tours of the buildings.

The Museum is open Tuesdays through Saturdays from noon until 4:00PM. Admission is by donation.