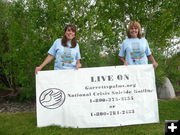 Live On!

The 2nd Annual Suicide Awareness Walk, in honor of Garrett Bardin, was held Saturday, June 19. Encana Regulatory Analyst Karen Olsen (left) serves on the committee, pictured here with Garrett's mother, Carole Bardin (right).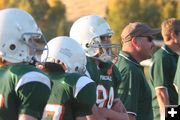 Digger Lewis

Encana Fuel/Gas Operator Digger Lewis volunteered more than 80 hours as Assistant Football Coach for Pinedale Middle School to earn an Encana grant to purchase new helmets and equipment for the team.


Encana employees volunteer to make a difference
by Encana news release
June 27, 2010

PINEDALE – Encana Oil & Gas (USA) Inc. makes a conscience effort to be a leader in both the energy industry and community. Across its operations, Encana motivates its employees to make a difference where they live through volunteer work and community involvement.

Many Encana team members share their time and resources to help enrich and improve communities. The Employee Volunteer Program was introduced in 2008 and allows employees and their immediate families to apply for an Encana grant based on the number of hours they volunteer with a non-profit organization.

"Encana is extremely proud to be an active supporter of programs that unite community members and positively strengthen the foundation and vitality of local communities," said Randy Teeuwen, Encana community relations advisor. "We inspire our employees to give their time, energy and talents to meet new people, contribute to community development, strengthen personal growth, and gain valuable experience."

A college football player, Encana Fuel/Gas Operator Digger Lewis spent more than 80 hours volunteering as the Assistant Football Coach for 7th and 8th graders at Pinedale Middle School.

"Coaching gives me the chance to share my love of the game, and also act as a positive influence and mentor for Pinedale kids," said Lewis. "It takes strength and desire to overcome fears and build self confidence. It's rewarding to know that I can help our kids grow as young men, and that they can use the things I teach them not just on the field, but in everyday life."

The hours Lewis volunteered allowed him to earn a $1,000 grant from Encana, which the school used for new helmets and training equipment for the team.

"I'm proud to participate in Encana's Employee Volunteer Program," said Lewis. "It's an outstanding opportunity to give back to our community, and a win-win situation for everyone involved."

It is essential for Encana employees to not only give to their communities, but to also be active in the community and work closely with landowners, communities, local governments and regulatory bodies. The relationships they build are based on respect, trust and an understanding for continuous improvement.

Encana Regulatory Analyst Karen Olsen spends much of her time volunteering on the committees for Garrett's PALMS and the Pinedale Half Marathon. Garrett's PALMS (Prevention, Awareness, Legislation Against Medication That May Cause Suicide) was created in memory of Garrett Bardin. Every year, a Suicide Awareness Walk takes place in June.

"Many folks in our industry knew Garrett. He was one of 'my kids' so this organization is very dear to my heart," said Olsen.

As treasurer of the Pinedale Half Marathon, Olsen has not only helped the event expand and develop, but has also helped her maintain a personal goal to stay physically active.

"Being engaged gives me the satisfaction of positively shaping my community, my neighbors and myself," said Olsen. "You never know how your actions can help others or open doors to greater things and friendships. When we focus on the needs of others, we reap the benefits ourselves."

Encana employees have developed an outstanding record in supporting and building stronger communities. They are also dedicated to maintaining a safe community, with emergency response a top concern.

Encana Automation Tech Luke Roberts volunteers as a locum EMT-B (emergency medical technician) for Sublette County Emergency Medical Services (SCEMS), and also serves as Lead Medic for the Sublette Emergency Response Team (SERT).

"I serve on these committees because there is a need for trained first responders for gas field emergencies from Pinedale to Jonah Field," said Roberts. "We are able to provide excellent initial care and assist SCEMS with patient care. I enjoy helping others and feel I have made a difference in the positive outcome of several patients in the field."

"As Encana employees, we have a commitment to our local communities and neighbors, our company, and ourselves to be responsible operators," said Teeuwen. "Our success depends on our people, and their passions in the field and in the community. Progress and achievement in our neighborhoods start with you and me, and to see direct results from personal effort is rewarding and very worthwhile."