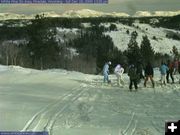 White Pine Ski Area Open

Skiers enjoy opening weekend on Saturday, December 19th, at White Pine Ski Area. Photo taken by the White Pine top webcam around 1:30 PM.

White Pine open for snow sports
December 19, 2009
White Pine Ski Area and Resort opened on Friday, December 18th, for snow sports. Typically, the ski area opens Thanksgiving weekend, but lack of snow delayed this year's opening until mid-December as warm conditions continued with a lack of measureable snow. Enthusiastic skiers made the most of the two-foot base over the weekend, with high hopes more snow will be on the way soon.