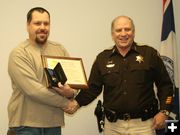 Al Kaderavek

Sheriff Bardin (R)congratulates Deputy Alaric Kaderavek for his efforts with alcohol compliance checks in Sublette County.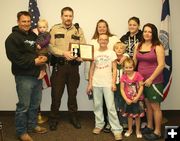 Life Saving Award

Deputy Ryan Day is pictured with baby Sara, held by her father Dustin Taylor, mother Stephanie, and Sara's siblings Cameron, Brooke, Emma, Kourtney and Rebecca Taylor, all of Marbleton.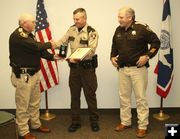 Captain Wes Johnston

Captain John Wells (L) gives Captain Wes Johnston his medal of honor for his service at the Sublette County Jail. Sheriff Bardin looks on.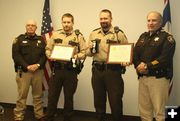 Life Saving Awards

(L to R) Captain John Wells, Deputy Ryan Day, Deputy Tom Hatch, Sheriff Bardy Bardin.


Sublette County Sheriff's Office honors four officers
by Dawn Ballou, Pinedale Online!
December 22, 2009

On Monday, December 21, the Sublette County Sheriff's Office recognized four officers for their outstanding service to the community. The department held an informal award ceremony at the Marbleton Sheriff's Office in the presence of family and members of the public. Al Kaderavek, Ryan Day, Wes Johnston and Tom Hatch were honored. Each was given a framed certificate and a medal by Sublette County Sheriff Wayne "Bardy" Bardin and Patrol Captain John Wells.

Deputy Alaric Kaderavek was honored with a Certificate of Merit for his efforts with alcohol compliance checks in Sublette County. Al Kaderavek took over alcohol compliance checks two years ago, building on an initiative started by Wyoming First Lady Nancy Freudenthal. "It was brought to my attention that Al probably does more in our county than the rest of the counties do, just because of his diligence and I know it is a tough job," said Sheriff Bardin. "For that, I want to give you a certificate for your compliance checks and a medal of distinction because you have gone above and beyond in your efforts."

Deputy Ryan Day received a "Life Saving Award." The Sheriff's Office received a call last April about a young child who had stopped breathing. Officers were in the process of getting into their vehicles to respond to the call when the mother showed up at the station, jumped out of her vehicle and thrust the baby into Day's arms. The child was blue. Officers were able to dislodge what was in the child's throat and get her to start breathing again.. "We were very fortunate," Day said, "It was quick thinking on the Mom's part.". The family believes Sara Taylor was choking on a piece of chicken. Mother, Stephanie Taylor said, "We never did find what she choked on."

Captain Wes Johnston received recognition for his work as a detention officer at the Sublette County jail and work with the court system. Johnston came to the department with a military background and experience working with the Game & Fish Department. "He quickly rose to the rank of captain at the jail and was in charge of twenty people. He did an excellent job," Sheriff Bardin said.

The last award went to two officers, Deputy Tom Hatch, and Deputy Ryan Day was once again honored. Sheriff Bardin read a letter from Bill Kluck, an EMT with Sublette County Emergency Medical Services. In the letter, Kluck detailed an incident on September 5th, 2009, just outside of Marbleton where a woman was reported to not be breathing. The call was approximately six miles out of town. Deputies Hatch and Day arrived on the scene approximately three to four minutes before EMS arrived. "Upon arrival of the ambulance crew, we witnessed these two deputies performing CPR on a 36-year old female who was not breathing and had no pulse. These deputies continued CPR until EMS was able to take over care of the patient. The patient was able to be shocked back into a perfusing heart rhythm because of these deputies performing early CPR prior to EMS arrival." Kluck wrote he believes the patient is alive today with no side effects from the event because of the early actions of the two deputies.




Related Links