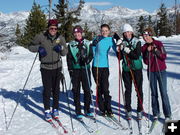 Pinedale Nordic Skiers

Coach Darin Binning and part of the Pinedale high school Nordic ski team training near Elkhart Park. Photo courtesy Bob Barrett.


Pinedale Nordic Ski Grooming Report, Dec. 30
by Bob Barrett, Pinedale Ski Education Foundation
December 30, 2009

Upper Skyline Drive to Elkhart Park is still the best choice for cross-country skiing this week as we continue to wait for more snow before grooming on the lower Skyline trail system can begin. Conditions are very good for skating and classic skiing on the Skyline road. A thin but solid and even snow base over the asphalt is holding up well here above 8700'. We are regularly grooming a wide skating lane and setting a diagonal track. The 3 1/2 mile, 700-vertical foot, uphill ski to Elkhart Park is accessed from a parking area one mile beyond the turnoff to White Pine at the upper Fremont Lake Overlook. The road is also open to snowmobiles but closed to wheeled vehicles.

Closer to town, the bike path portion of the CCC Ponds ski trails will be groomed again if we can get about 4" of new snow.