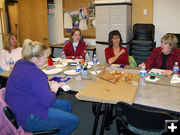 United Way

Representatives from local organizations attended a United Way of Southwest Wyoming meeting on Dec. 15, 2009. The meeting discussed United Way's funding application process. From left: Robin Schamber, Becky Gregory, Jennifer Anderson, Kristi Foster, and Lara Ryan. Not pictured Dari Quirk. Photo courtesy United Way.


Organizations attend United Way meeting
by United Way
December 23, 2009

United Way of Southwest Wyoming (UWSW) held an informational meeting for Sublette County organizations wanting to apply for funding for the 2010-2011 year on Dec. 15, 2009. The meeting took place at the 4-H Extension office in Pinedale, Wyo. Kathy Tacke, United Way Director of Community Impact led the meeting and discussed UWSW's funding timeline; criteria and requirements to apply including audits, non-profit status and organization outcomes; letters of intent; application overview and changes from 2009; reporting process and format; and answered questions.

UWSW will be accepting letters of intent (LOI) for one-year grants for the 2010-2011 funding process from any tax exempt organization that serves residents in Lincoln, Sublette, Sweetwater or Uinta Counties.

Organizations wanting to apply need to submit a hard-copy, one-page LOI to UWSW no later than Jan. 15, 2010 by 5 p.m.; no faxes or e-mails will be accepted. Additional pages will be discarded and will lead to disqualification. Letters need to be on letterhead 8 inches by 11 inches that can be fed through an automatic feed photocopier. The letter should explain how the organization's program(s) align with United Way's priority areas as outlined in United Way's Agenda for Change. Specific Agenda for Change goals can be found on United Way's website, www.swunitedwy.org. Funding will be directed to programs, services, strategies and collaborations that will address short and long-term goals in three specific areas – education, income and health.

UWSW will continue to significantly invest in a wide array of programs and services, funding will primarily be focused on achieving Agenda outcomes. "This funding system further supports the Agenda for Change, which serves as United Way's blueprint for creating sustained community change that measurably improves people's lives," Tacke.

Investing in children and youth to help them become healthy and productive citizens, developing a safe and healthy community through partnerships, and providing quality services to support independent living are the missions of the Agenda for Change. Organizations submitting a LOI should state how their program(s) meet at least one of the following program outcomes:
• decrease teen parenthood
• provide additional quality and affordable child care
• before and/or after school educational opportunities
• form partnerships to create available and safe transitional housing
• educate residents on how to be financially stable
• create additional healthcare options for all ages (including prescriptions)
• ensure that residents have adequate access to reliable methods of transportation
• provide a central intake system that directs individuals to the appropriate community program based upon their needs

"United Way looks forward to working with any organization that produces long-term changes that align with these goals. The letter of intent process will allow us to gain a better understanding of the types of programs that seek funding, the conditions that exist in various communities, and how those conditions will be addressed to create opportunities for a better tomorrow," said Suzanne Zutter, United Way executive director.

Applicants will be contacted regarding their eligibility status on Jan. 29, 2010. Organizations that submit a letter of intent that meets United Way criteria will need to submit a hard copy request for proposal no later than 5 o'clock in the evening on March 5, 2010; no faxes or e-mails will be accepted.

For more information about the LOI/Agenda for Change process (including guidelines and application deadlines) contact Kathy Tacke at 307-362-5003, or community@swunitedway.org. Letters of intent can be mailed or delivered to United Way of Southwest Wyoming, 404 N St., Ste. 301, Rock Springs.