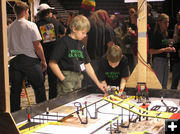 David and Tyler

David Rule (left) and Tyler Moritsch (right) prepare the start the Pinedale Team's robot on its journey along the course. The robot is supposed to perform various tasks along its way. Photo by Bob Rule.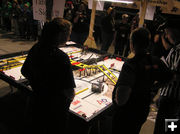 Sarah and William Shafer

Sarah Shafer (left) and William Shafer (right) of Big Piney watch as their pre-programmed robot takes off and performs perfectly. Photo by Bob Rule.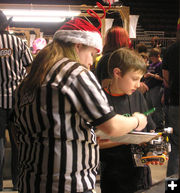 Tyler Moritsch

Tyler Moritsch of the Pinedale Gladiators holds the team's robot following its journey, as the judge adds up the score. Photo by Bob Rule.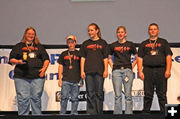 Big Piney-Marbleton-LaBarge team

The Big Piney/Marbleton/LaBarge team was Donna Shafer (coach), Sid Fredrickson, Sarah Shafer, Ali Applin, William Shafer. They won a 2nd and 3rd Place award. Photo courtesy Robin Schamber.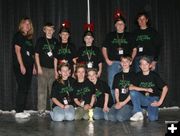 Pinedale Gladiators

Team photo of Pinedale Gladiators: Back row; Robin Schamber (coach), David Rule, Tyler Mortisch, Thomas Mack, Conor Sullivan, Carla Sullivan (coach), Front row: Taylor Ruckman, McKenna Legerski, Carson Mack, Martin Erickson, Guthrie Sturman. Photo courtesy Robin Schamber.

Local teams compete in LEGO robotics competition in Casper
Students from Pinedale, Big Piney, Marbleton and LaBarge competed
December 10, 2009
Wyoming FIRST (For Inspiration and Recognition of Science and Technology) LEGO League held its 4th annual LEGO robotics competition at the Casper Events Center on Friday, December 4 and Saturday, December 5, 2009. Students from Pinedale and Big Piney 4-H robotics teams attended.

53 teams, made up of students ages 9-14 from 24 Wyoming communities, participated in the competition. The event was one of several thousand such FIRST LEGO League (FLL) competitions that are held each year around the world. The 2009 competition theme was "SMART MOVE: Transforming Transportation".

Special speaker for the event was John Wright from NASA's Jet Propulsion Laboratory. He was one of the planners for the Mars Exploration Rover missions and was one of the rover drivers since they landed on Mars in January 2004.

Students from Pinedale attended as the "Pinedale Gladiators" team.

Students from Big Piney/Marbleton/LaBarge attended as team "Robots-R-Us".

The teams had three attempts to program their robot to navigate a course, performing various tasks along the way. The lowest score was tossed out.

Big Piney/LaBarge received 2nd Place for the robot Performance Award and 3rd Place for the Champions Award.

The Pinedale Gladiators received 2nd Place for Creative Presentation Award.

2009 Wyoming FIRST LEGO League Championship award winners:

Champions Award
1st Place: Never Sweat Bots - Dubois
2nd Place: Technical Difficulties - Jackson (Jackson Hole Middle School)
3rd Place: Robots-R-Us - Big Piney/LaBarge

Robot Performance Award
1st Place: NXT Generation of Eagles - Gillette
2nd Place: Robots-R-Us - Big Piney/LaBarge
3rd Place: Blazin Bandits - Buffalo (Clear Creek Middle School)

Creative Presentation Award
1st Place: Blue Moon Robo Riders - Clearmont (Arvada/Clearmont Elementary)
2nd Place: Pinedale Gladiators - Pinedale
3rd Place: Big Brains - Evansville (Evansville Elementary)

Innovative Solution Award
1st Place: Transportation T.I.G.E.R.S. - Lusk (Lusk Elementary/Middle School)
2nd Place: Incredibots Force 10 - Thermopolis (Lights on Afterschool Program)
3rd Place: LC4H Robot Royality - Cheyenne (Laramie County 4-H)

Research Quality Award
1st Place: Automaton Lords of Laramie - Laramie (Laramie Area Progressive Homeschoolers)
2nd Place: Flying Monkeys - Casper (Casper Classical Academy)
3rd Place: STARS - Casper (St. Anthony's Tri-Parish School)

Teamwork Award
1st Place: Cyclonic Robots - Casper (CY Junior High)
2nd Place: LEGO Dragons - Casper (Crest Hill Elementary)
3rd Place: ThermopSEEK - Thermopolis (Ralph Witters Elementary)

Robot Design Award
1st Place: Laser Blazers - Casper (Oregon Trail Elementary)
2nd Place: Wolverines - Evanston (Evanston Middle School)
3rd Place: Terabyte Tigers - Casper (Paradise Valley Elementary)

Judges' Award
Transbots - Casper (Woods Learning Center)

Rookie Team Award
Super Nova Destruction - Green River

Team Spirit Award
Roboxsters - Guernsey

Adult Mentor Award
Rick Sanchez - Buffalo

Young Adult Mentor Award
Sean Cometto - St. Anthony STARS

Outstanding Volunteer Award
Cathy Bisiar - Natrona County Schools
Click here for more on the competition: http://wyomingfll.blogspot.com/

Photos courtesy Bob Rule and Robin Schamber.