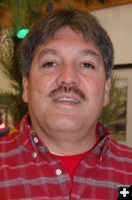 Jose Castro

Photo courtesy Bridger-Teton National Forest.


Bridger-Teton welcomes new Deputy Supervisor
Jose Castro replaces Mike Balboni
by Bridger-Teton National Forest
December 15, 2009

Forest Supervisor Kniffy Hamilton of the Bridger –Teton National Forest will welcome her new deputy in January 2010. José Castro will report for work in Jackson, Wyoming as the new Deputy Forest Supervisor, filling the vacancy that was left when Deputy Mike Balboni transferred to Louisiana earlier this year.

José Castro has over 20 years of Forest Service experience on five National Forests and three Regions. Castro worked his way up the ranks starting in 1988 as a Forestry Technician on the Jefferson National Forest in Virginia and later as a forester managing the Uwharrie National Forest in North Carolina. He detailed to the Santa Fe National Forest as Deputy Forest Supervisor and as Deputy Fire Director in Region 1. Castro also completed international forestry assignments in Mexico.

Castro was previously the District Ranger in Bozeman, MT and had been in that position since 2001. He moved to Bozeman following a stint as Deputy District Ranger on the Coeur d' Alene District of the Idaho Panhandle National Forest. Castro is eager to begin work on the Bridger-Teton at the beginning of the New Year. "I look forward to meeting new people on the Bridger-Teton and making their acquaintance," he said. "The Forest is diverse both in natural resources and social issues on a very large landscape. I'm confident we'll make progress on the many projects and issues and have fun while we're at it," he continued. "My family hopes to quickly be settled in Jackson, become active in the community and make new friends," said Castro.

Castro and his wife Janet have three children: Joe, 22, a 2009 graduate of the United States Air force Academy, currently in pilot school; Danny 19, a sophomore at the Airforce Academy majoring in civil Engineering and interested in pilot training too; and a daughter, 12 year old Gabriella in 7th grade.

Castro grew up in Los Angeles, is a veteran of the army and a former Green Beret. He graduated from the State University of New York at Morrisville with an associate's degree in Forestry and later got his Bachelor's of Science in Environmental Science from SUNY Plattsburgh. His hobbies include camping, fishing, hunting, coaching youth sports, and officiating prep football.