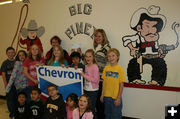 Chevron Grant

Laura Walton (right rear) of Chevron presents a check to Keyth Palmer, Director (left rear) and students from the Big Piney 4-H Afterschool Program.


Big Piney Afterschool Program receives Chevron grant
by Big Piney 4-H Afterschool Program
December 20, 2009

Laura Walton, with Chevronís Moxa Field Office presented a check for $5,000 to the Big Piney 4-H Afterschool Program recently. The funding will be used to provide activities for afterschool participants in the disciplines of science, technology, engineering, leadership and civics.

The 4-H Afterschool Programís primary goal is to offer educational enrichment that will enable students to develop competency to become productive members of society and compete in a global economy. Chevronís generous donation will make possible the purchase of curriculum materials and other resources.