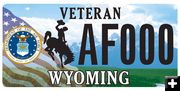 Air Force plate

Armed forces veteran specialty license plates and embossed plates will be available in Wyoming next year.


Wyoming offers Veteran license plates
by Wyoming Department of Transportation
November 22, 2009

Armed forces veteran specialty license plates and embossed plates approved by the 2009 Wyoming Legislature will become available next year.

Both plates carry a $50 fee in addition to the standard $15 state registration fee and the county registration fee calculated based on the vehicleís value.

To be eligible for the veteran plates the vehicle owner must have completed at least one term of honorable service in the Army, Navy, Air Force, Marines, Coast Guard or Merchant Marine.

Applications for the plates will be available beginning Nov. 23 through county treasurer offices, WYDOTís Motor Vehicle Services office and the departmentís Web site at www.dot.state.wy.us/wydot/titles_plates_registration/specialty_plates.

Once filled out, the application must be submitted to the Wyoming Veterans Commission for confirmation of the applicantís eligibility. WYDOT then will make the plates and ship them to the county treasurerís office in the county in which the vehicle is registered for the owner to pick up.

Embossed plates can be ordered for standard, specialty, prestige and University of Wyoming plates, and the applications will be available in December. Application for the plates is made to WYDOT Motor Vehicle Services, but the plates are picked up at county treasurer offices.

Wyoming previously stopped offering embossed plates in 2001, when the Wyoming State Penitentiary shut down its plate manufacturing plant. WYDOT now has a digital flat plate manufacturing system that doesnít produce embossed plates. The department has contracted with the state of Colorado to produce the new embossed Wyoming plates.

Because the plates will be produced out of state by prison inmates, every set will have to be inspected, resulting in an estimated wait of 10 to 12 weeks for delivery.

The $50 fee for either of the specialty plates must be paid every eight years, when new plates are issued. State law requires WYDOT to issue new license plates every eight years because that is the average life of the reflective materials on the plates.

All specialty license plates in Wyoming must be approved by the Legislature, and there are now 16 categories available.