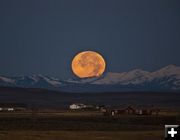 Moon Set

Moon set behind the Wyoming Range.

Moon rise and set
Scenic photos by Dave Bell
November 2, 2009
"From a photographers perspective, there are only two times per year when the full moon sets and the full moon rises, on the same day, and they do so in opposite sync with the respective sunrise and sunset, allowing for exceptional moon photographing. So, I shot the moon on both ends of the day today--and enjoyed it!"

Click on this link for the moon rise and set photos by Dave Bell, taken on Monday, November 2nd.